The Big Picture –
By Glynn Wilson –
MOBILE, Ala. — I hate to be the bearer of bad news this close to Christmas or pour cold water on a hot victory. But you know me. Always a real news guy who just has to tell the truth, even if that means kicking somebody in the balls. Isn't that what democracy needs most?
It beats all the pretense from the mainstram media, treating tyrants with kid gloves in the name of being "fair and balanced."
It beats being Steve Bannon, who has to work himself into a Crown whiskey and cocaine lather to twist the Breitbart News "fake news" story all around to get voters to follow him through the gates of hell, all in the name of being admitted to the party in heaven. Some people will say anything for money and power.
Now that the U.S. Senate election is over and done with in Alabama, it is time to turn back to what else is important nationally.
As you have probably already heard, President Donald J. Trump called Doug Jones to congratulate him on his victory over Roy Moore, who of course has yet to call Jones to concede. But the president knows who won the race and has already moved on. Trump has invited Jones to the White House for a little chat.
How nice.
Maybe over lunch, with a little help from Santa Claus, Jones can convince the president not to cut taxes for corporations and the rich and stop lying about the tax cut being for the middle class and average American workers.
New York Senator Chuck Schumer has already suggested that the vote on the tax cut bill should be delayed until Doug Jones is sworn in. Trump is having none of that. He wants to sign an actual bill into law before Christmas, especially this law, which so benefits his own friends and family in such a big way, just in time for Santa Claus to come down the chimney and drop a bunch of Russian property gifts under the Trump family tree.
Maybe Jones can get the president and the Republicans in Congress to stop gutting healthcare for the old, young, sick and poor.
Maybe he can convince the president and the Republicans to stop ripping people off by gutting funding for public education.
Maybe he can convince Trump to get the United States back in the Climate Change negotiations to do something about global warming and, you know, maybe save the planet?
Maybe he can get his good friend Jeff Sessions to stop harassing Latino immigrants and put the kibosh on Trump's border wall.
We wish Mr. Jones all the best in his efforts to work with the Republicans in Washington to change course. Let us know if there is anything else we can do to help. We'll give it a few months and see what happens.
But Republican Bradley Byrne has already launched a trial balloon indicating he will run against Jones in 2020, when his abbreviated term expires. So there's really no time to lose.
Events and technology are moving too fast now to sit back and party too much and celebrate. Did you hear we just lost net neutrality today? Try finding this independent news site in a Google search now. The corporations have already taken over the search engines, and the alt-right controls the comments on the web news sites, even YouTube.
On his campaign website, Jones says "Thank You Alabama!"
"I believe the United States of America is a land of laws, justice, freedom, equality, and opportunity," Jones says. He's going to Washington, he says, "to restore Alabama's trust for its elected leaders with these values in mind."
Summarizing:
* Everyone has the right to quality, affordable health care.
* He will defend a woman's right to choose.
* All children deserve a first-class education.
* College must be affordable.
* He believes in science and will work to slow or reverse the impact of climate change.
* He supports a raise in the minimum wage.
* Women must be paid an equal wage for equal work.
* He says voter suppression is unAmerican and he wiil work to protect voting rights.
"Discrimination cannot be tolerated or protected," he says. "America is best when it builds on diversity and is welcoming of the contributions of all."
This all great. We agree 100 percent.
Yet I suspect sometime in a few months, say about February, Jones will figure out what many politicians have come to find out for decades about how things work in Washington, including Trump himself. It's great to run a political campaign talking about changing things in Washington. Drain the swamp and all that. It's another thing to actually be able to do anything to make that happen.
It's hard to imagine anything changing the way we want to see it changed as socialist democrats — as opposed to capitalist oligarchs — with Trump in the White House, Paul Ryan and Mitch McConnel still in charge of the House and Senate, and Jeff Sessions still in charge at the Department of Justice. This is a socialist democracy whether anyone wants to call it that or not. Bannon and Trump want it to be a capitalist republic. That's what the Republicans advocate. That's not what we are.
But hey, maybe Doug Jones knows something we don't. Maybe he has the magic ring of power after all.
Here's something of note that just came out.
A majority of American voters now say Donald Trump should resign from the Presidency because of the allegations of sexual harassment against him, according to a new national poll.
While 42 percent of Americans say Trump should remain in office in spite of the allegations, 53 percent now think he should resign. That's the same 53 percent of voters who believe the women who have accused Trump of sexual harassment. Only 31 percent don't think they are telling the truth.
"In general Trump voters seem relatively unconcerned with his behavior toward women," according to Public Policy Polling. "Just 45 percent say they would disapprove of Trump sexually harassing women while 22 percent actually say they would approve of him doing so, and 32 percent express no opinion either way."
That sounds a lot like voters for Roy Moore, many of whom seemed to say they would vote for a pedophile any day, as long as he was not a damn Democrat.
Midterm Elections
Yet the political climate continues to be "shaping up very well for Democrats in 2018," according to the latest numbers. Democrats now hold a 51-40 percent lead on the generic Congressional ballot.
The Republican brand in Congress has taken a nose dive of late, they say. House Speaker Paul Ryan's approval rating is at 23 percent approve, 58 disapprove, which has him floating a trial balloon today that he may retire rather than run for reelection in 2018. And he comes out looking good in comparison to Mitch McConnell, who only has a 13 percent approval rating compared to 61 percent who disapprove of the job he is doing.
The tax bill is not helping the Republicans beyond their loyal base. Americans are not believing all the "fake news" talk about the bill favoring the middle class and average working Americans. Only 29 percent of voters support it, while nearly 50 percent oppose it.
And here's the kicker.
By a 23 point margin, voters say they're less likely to vote for a member of Congress next year who supports the tax bill.
Among those who say they've heard 'a lot' about the tax plan, 62 percent oppose it, and that group of voters gives Democrats a 63-33 advantage on the generic House ballot for 2018.
Only 26 percent of voters are buying this bunk about the middle class and small businesses being the primary beneficiaries of the bill, while 61 percent know damn well it will only help the wealthy and large corporations.
"It's not just the things Congressional Republicans are doing that are getting them in trouble," according to the survey. "It's also the things they're not doing."
For instance, 66 of voters support the Dream Act. Only 23 percent are opposed to it.
There's only 20 percent support for a government shutdown, while 63 percent are opposed.
If there is a shutdown "voters are clear on where they'll place the blame," according to the numbers: 52 percent say they'll hold Donald Trump and the Republicans in Congress accountable, to only 40 percent who say they'd pin the blame on the Democrats.
Other notes on Trump:
* Only 38 percent of voters think he's honest, while 57 percent say he's a liar.
* A large majority, 62 percent of voters, still want to see his tax returns, while 31 percent say it isn't necessary.
* A majority, 51 percent of voters, believe Trump is mentally unbalanced, while 44 percent say they think he's mentally stable.
* Just 37 percent of voters think he's delivered on his core campaign promise to 'Make America Great Again,' while 57 percent say he hasn't.
Drum roll for impeachment.
"For the first time we find a majority of voters — 51 percent — support impeaching Trump," the pollsters say, while just 42 percent oppose the idea.
We are not even going to get into the numbers on Russian spying, hacking and meddling in our election. There's enough of a case for impeachment with an obstruction of justice case and another in all the Trump family conflicts of interest.
Nobody wants to talk about this yet. We get it. We all need a break with only 11 days to go until Christmas.
But just for our readers, some of the most active and engaged in the state and country who can't resist continuing to plan for a better future, here's a little something to put in your news stocking in case you missed it in all the last minute hubbub of the senate campaign.
Trump is Running Scared: Doug Jones Could Be Key Vote on Senate Judiciary Committee in His Impeachment Trial
We can only hope.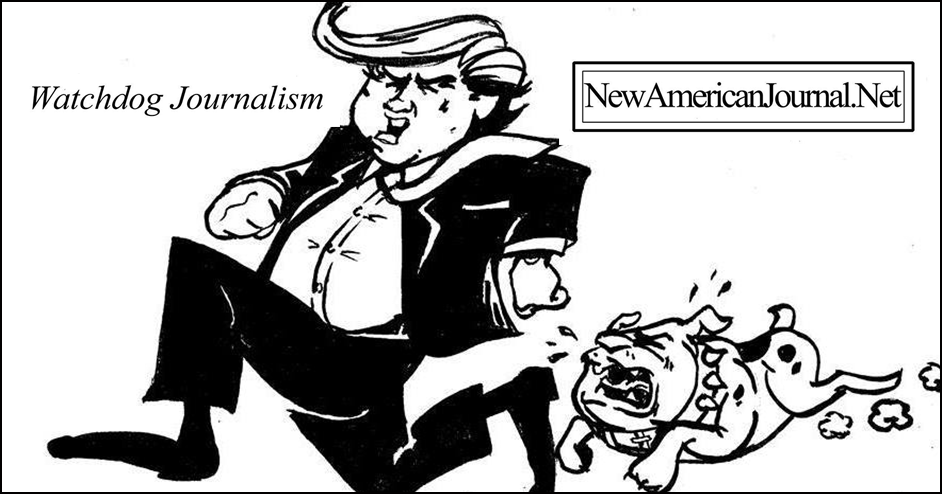 The New American Journal covered the U.S. Senate race accurately from the beginning, predicted a win for Jones, and called the 2016 election for Trump. If you want to support our brand of "real journalism," help fund this work to take down Breitbart 'Fake' News.
© 2017, Glynn Wilson. All rights reserved.