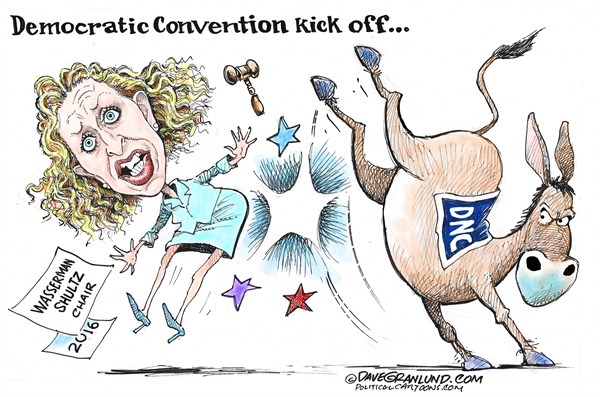 The Big Picture –
By Glynn Wilson –
Oh what a relief it is to see a real political show on television.
Last week in Cleveland the Republicans tried to scare the crap out of everybody with their D-list stars trying to make combacks by kissing up to The Donald, and fear mongering by one speaker after another.
All that was blown away on just the first night of the Democratic National Convention, when Minnesota Senator and former Saturday Night Live comic Al Franken took to the stage in Philadelphia and made his case for why the country needs to elect Hillary Clinton as president.
Later Michelle Obama's performance simply blew Donald Trump out of the water without even mentioning him by name.
"Don't let anyone ever tell you that this country isn't great," she said in an emotional plea with so much style and grace that it reiterates what I have been saying for years about President Obama being America's political Jackie Robinson.
If nothing else could quell the anger felt by the army of Bernie Sanders supporters who came to Philly to disrupt the show if their candidate's name was not placed in nomination, the First Lady's remarks should have at least grabbed their attention, if they were willing to listen for a few minutes. She trusts Hillary Clinton, if a large number of Americans don't.
Then Massachusetts Senator Elizabeth Warren took to the stage and blasted Trump to the bone in an effort to show all the progressive Democrats the need to work and vote for Clinton to stop the Trump train.
But the biggest event of the night was the address by Vermont Senator Bernie Sanders himself, who urged his followers to continue the political revolution — but in the mean time, work to elect Hillary Clinton president or face the disaster of Trump come January.
To try and quell a rebellion on the convention floor, according to a source at the convention, Sanders canceled his last two meetings with supporters before his speech and sent out this note to all his delegates:
Thank you so much for your efforts on the campaign and your hard work to advance the political revolution. We have accomplished much. Much more needs to be done.

The political revolution is not about one election or one candidate. It is about transforming America and continuing the fight for economic, social, racial and environmental justice. We have to continue to work together to advance the progressive future we all support.

During this convention you represent not just the 13.3 million who voted for our campaign. You also represent the future of our movement.

I am asking all of us to bear that in mind while we are on the floor of the convention. Our credibility as a movement will be damaged by booing, turning of backs, walking out or other similar displays. That's what the corporate media wants. That's what Donald Trump wants. But that's not what will expand the progressive movement in this country.

I know everyone is frustrated, especially by the recent DNC email disclosures. But, as a result of this disclosure Debbie Wasserman Schultz was forced to resign. This is a very positive sign.

We have made great progress in the last year. Let's continue going forward.

I would ask you as a personal courtesy to me to not engage in any kind of protest or demonstration on the convention floor.

In solidarity,
Bernie Sanders
Paid for by Bernie 2016
(not the billionaires)
Things should move uphill for the rest of the week, barring any unforeseen disasters, and it will all culminate when Hillary Clinton accepts the Democratic Party's nomination as the first woman ever. She is and will remain a controversial figure, so there's no guarantee her nomination will result in the election of the first woman president. But it looks like a better option by far than turning American democracy over to a pathologically impulsive and self-centered sociopath who would be dictator.
Stay tuned, tune in, and turn on.
© 2016, Glynn Wilson. All rights reserved.