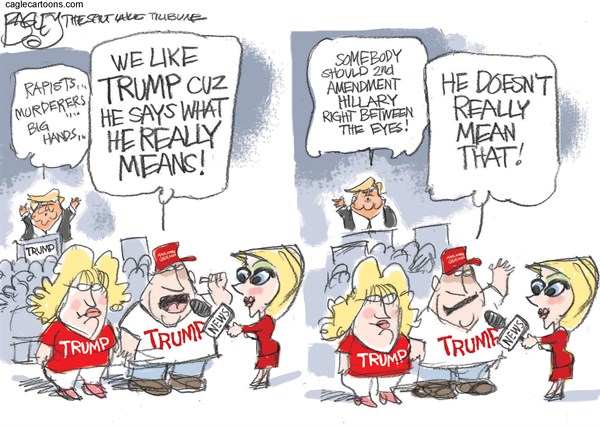 By Glynn Wilson –
The Cable News Network formerly owned by Ted Turner has a long history of getting stories wrong since Time Inc. took over and ran Turner off.
In the latest incident, CNN reporters and anchors have been reporting that the U.S. Secret Service had met with and questioned Republican presidential candidate Donald Trump in the wake of his remarks about the Second Amendment crowd taking care of Trump's Democratic Party rival Hillary Clinton and her Supreme Court picks. The story has been repeated by hundreds of bloggers and shared all over the country and the world on Twitter and Facebook.
But sources close to the Secret Service tell us that is not the case, and the Reuters wire service is now taking down CNN and other news organizations for reporting the same story.
According to Reuters, a federal official on Wednesday confirmed that the Secret Service had not formally spoken with Trump about his remarks suggesting that gun rights activists could stop Clinton from curtailing their access to firearms and appointing liberal Supreme Court justices. The official familiar with the matter told Reuters that there had been no formal conversations between the Secret Service and the Trump campaign, no questions about his threatening remarks.
At a North Carolina campaign rally on Tuesday, Trump suggested that gun rights activists could stop Clinton from appointing liberal anti-gun justices to the U.S. Supreme Court.
"If she gets to pick her judges, nothing you can do folks," Trump told North Carolina Republicans. "Although the Second Amendment people, maybe there is, I don't know," he said, hinting that the pro-gun crowd might be able to "take care" of Clinton, leading some critics to believe Trump was referring to gun violence against his rival in the presidential campaign.
CNN and other news outlets had reported that there had been "multiple conversations" between the campaign and the agency. It now turns out they were wrong.
The Secret Service acknowldged the comments on Tuesday, in an unprecedented move, by posting a comment on its official Twitter account: "The Secret Service is aware of the comments made earlier this afternoon."
The Trump campaign denied that inciting violence had been the intent of Tuesday's remarks, and on Wednesday said there had been no conversations with the Secret Service about it.
"No such meeting or conversation ever happened," Trump wrote on Twitter, accusing CNN of having made up the report.
After the incident, Michael Hayden, the former director of the CIA and National Security Agency, said: "Well, let me say, if someone had have said that outside the hall he'd be in the back of a police wagon now with the secret service questioning him."
The controversy came on the heals of a contentious week in which Trump weathered criticism within his own party for delaying endorsements of fellow Republicans and for a prolonged clash with the family of a fallen Muslim American U.S. Army captain.
Some Republicans were so distraught with Trump's incindiary remarks that they began openly discussing party rules that would allow them to remove Trump as the Republican nominee.
But that did not seem to slow Trump down for a minute.
Today he is making news again by accusing President Barack Obama and Hillary Clinton of being co-founders of the Islamic State for pulling U.S. troops out of Iraq.
"He (Obama) was the founder of ISIS. And so was she. I mean I call them co-founders," Trump said on CNBC. "He shouldn't have gotten out the way he got out. It was a disaster, what he did."
Of course Mr. Obama had opposed the Iraq war and campaigned for the White House in 2008 on a promise to end it. Americans were overwhelmingly against it, since it became clear that it was a bad invasion based on false intelligence about the existence of a Weapons of Mass Destruction program in Iraq. The U.S. pulled combat troops out in 2011.
The problems started at CNN back in the late 1990s, when Time Inc. bought out CNN and then merged with AOL. Since CNN was picking up a lot of my stories from the UPI wire, I was interviewed for an associate producers position about the time the new management was getting rid of associated producers. The cable network went to two person teams instead of three, meaning the on air talent and camera operator had to do their own research.
Since then, the cable news outfit has gotten many stories wrong, notably this story in 2012 about the U.S. Supreme Court's ruling on the Affordable Care Act.
CNN Incorrectly Reports Individual Mandate Stuck Down by Supreme Court
© 2016, Glynn Wilson. All rights reserved.