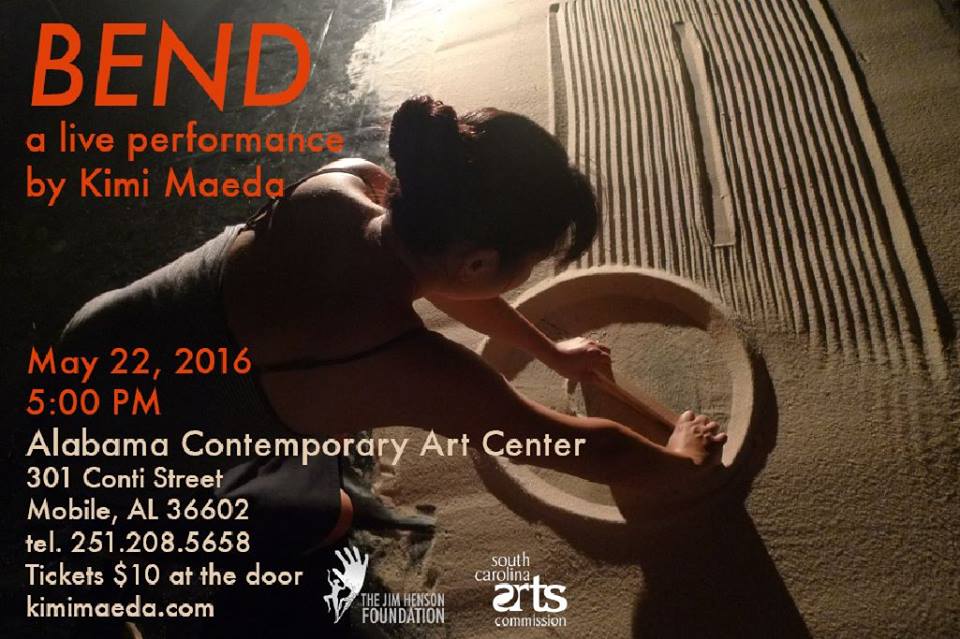 Kimi Maeda's solo performance, Bend, tells the true story of two men interned in a Japanese American internment camp during World War II: Maeda's father, an Asian Art historian who suffered from dementia at the end of his life, and the subject of his research, Isamu Noguchi, a half-Japanese-half-American sculptor.
Weaving together live feed projections of sand drawings with archival footage from the 1940s, Maeda's performance poses important questions about how the Japanese American internment camps will be remembered.
The public in Mobile, Alabama, is invited to see and experience this unique performance in the historic Mobile Press-Register building downtown, now home to the Alabama Contemporary Art Center at 301 Conti Street, Sunday May 22. The show starts at 5 p.m. Admission is $10 at the door.
The show was created and will be performed by Kimi Maeda, with music by Bill Carson and Kishi Bashi.
Learn more and get hooked up at the Facebook event page here.
Watch the trailer here:
Read an interview with Kimi Maeda on Lagniappe's web site: Artist explores father's internment in performance piece
Support for Bend was made possible by the Tapp's Arts Center, the Jim Henson Foundation, the South Carolina Arts Commission, the National Endowment for the Arts, the John and Susan Bennett Memorial Arts Fund of the Coastal Community Foundation of SC, Alternate ROOTS, the New England Japanese American Citizens League, the Arkansas Archaeological Survey, the Arkansas Arts Council, the Arkansas Humanities Council, the World War II Japanese American Internment Camp Museum, the Nathan Cummings Foundation, the Ford Foundation, the Andrew W. Mellon Foundation, the Kresge Foundation, and the Kō Festival of Performance.
Find out about more great events coming up by liking and watching the Alabama Contemporary Art Center's Facebook page.
© 2016, Glynn Wilson. All rights reserved.