A new report released by the U.S. Department of Labor provides solid evidence that raising the minimum wage in states tends to spur job growth, the opposite of what conservative critics claim.
The state-by-state hiring data, released Friday by the Labor Department, provides ammunition to the camp in favor of raising the minimum wage. In the 13 states that raised the minimum wage, jobs were added at a faster pace than those that did not.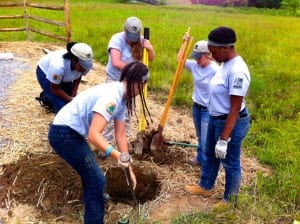 "In the 13 states that boosted their minimums at the beginning of the year, the number of jobs grew an average of 0.85 percent from January through June. The average for the other 37 states was 0.61 percent," according to the report.
Nine of the 13 states increased their minimum wages automatically in line with inflation: Arizona, Colorado, Florida, Missouri, Montana, Ohio, Oregon, Vermont and Washington. Four more states — Connecticut, New Jersey, New York and Rhode Island — approved legislation mandating the increases.
"Economists who support a higher minimum say the figures are encouraging, though they acknowledge they don't establish a cause and effect," reports the AP.
"It raises serious questions about the claims that a raise in the minimum wage is a jobs disaster,' said John Schmitt, a senior economist at the liberal Center for Economic and Policy Research. The job data 'isn't definitive,' he added, but is 'probably a reasonable first cut at what's going on."
Some studies, notably those lead by University of Massachusetts at Amherst economist Arin Dube, argue that there are no adverse employment effects from small increases in the minimum wage, the opposite of the political argument always made by anti-government conservative Republicans who clearly don't know anything about economics.
According to a statement from the White House, the 1.4 million jobs added in the first half of 2014 are the most in any half since 1999.
"What's more, this is the first time since September 1999-January 2000 that we've seen total job growth above 200,000 for five straight months," the White House says. "Let's not forget that the American auto industry is continuing to bounce back — adding 18,000 jobs this past month for a total of 463,000 jobs added since Chrysler and GM came out of bankruptcy in June 2009."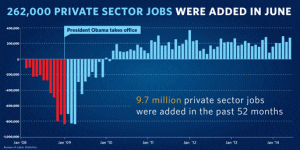 © 2014, Glynn Wilson. All rights reserved.