By Glynn Wilson –
The election of Birmingham attorney Doug Jones as the next U.S. Senator from Alabama was certified in Montgomery Thursday at 1:10 p.m. by unanimous vote of the State Canvassing Board in spite of a last minute lawsuit to try to stop it by Roy Moore.
The board, consisting of Gov. Kay Ivey, Attorney General Steve Marshall, and Secretary of State John H. Merrill, is the state entity that reviews and certifies the results of Alabama's state and federal elections. The vote was unanimous and broadcast live on Facebook by a number of news outlets.
"I am looking forward to going to work for the people of Alabama in the new year," Senator-elect Doug Jones said in a statement issued within seconds of the vote. "As I said on election night, our victory marks a new chapter for our state and the nation. I will be an independent voice and work to find common ground with my colleagues on both sides of the aisle to get Washington back on track and fight to make our country a better place for all."
Secretary of State John Merrill said his office had received 118 complaints of alleged voter fraud in the Dec. 12 election but determined that no fraud occurred in 85 of those instances, with only 33 others still pending, clearly not enough to have any effect on the outcome of the election.
According to the now official results (see image below), Jones received 673,896 votes, 49.97 percent, to Moore's 651,972 votes, 48.34 percent. So Jones won by 21,924 votes.
Earlier in the day, Montgomery Circuit Judge Johnny Hardwick rejected Moore's attempt to stop the state from making the election results official.
Jones filed a motion Thursday in Montgomery Circuit court asking a judge to dismiss Moore's complaint. Attorney Joe Espy wrote that Moore had no legal grounds for asking the court to block Jones' victory.
Sam Coleman, Jones new press secretary, called Moore's last-minute lawsuit to stop the certification of his victory a "desperate attempt" to "subvert the will of the people."
"It will not succeed," he said. "The election is over. It's time to move on."
"Today marks a new day for Alabama and our nation," Jones said on Twitter.
He is scheduled to be sworn in as the next U.S. Senator from Alabama in Washington, D.C. on Jan. 3 when the Senate reconvenes from its winter holiday break. The full plans for that event have not yet been finalized and released, but we just learned Jones will be sworn in by Vice President Mike Pence. We can only assume he will take over the same office used by Luther Strange after he took over from Jeff Sessions. The address is 326 Russell Senate Office Building, Washington, DC 20510, Phone: (202) 224-4124; Fax: (202) 224-3149.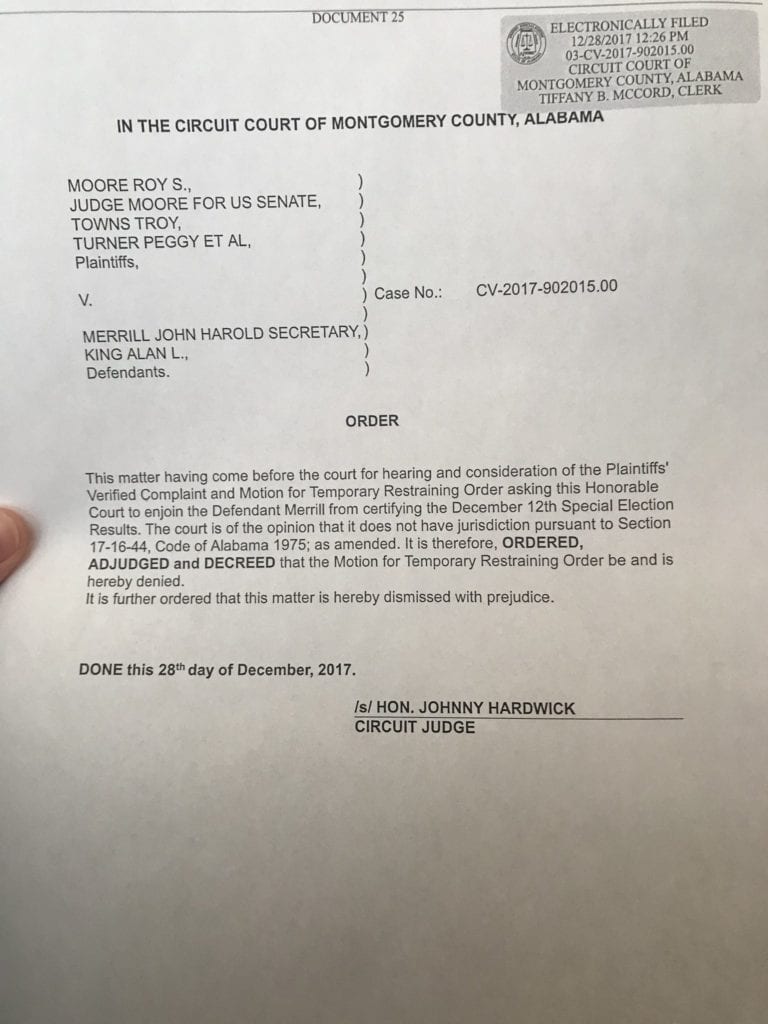 © 2017 – 2018, Glynn Wilson. All rights reserved.