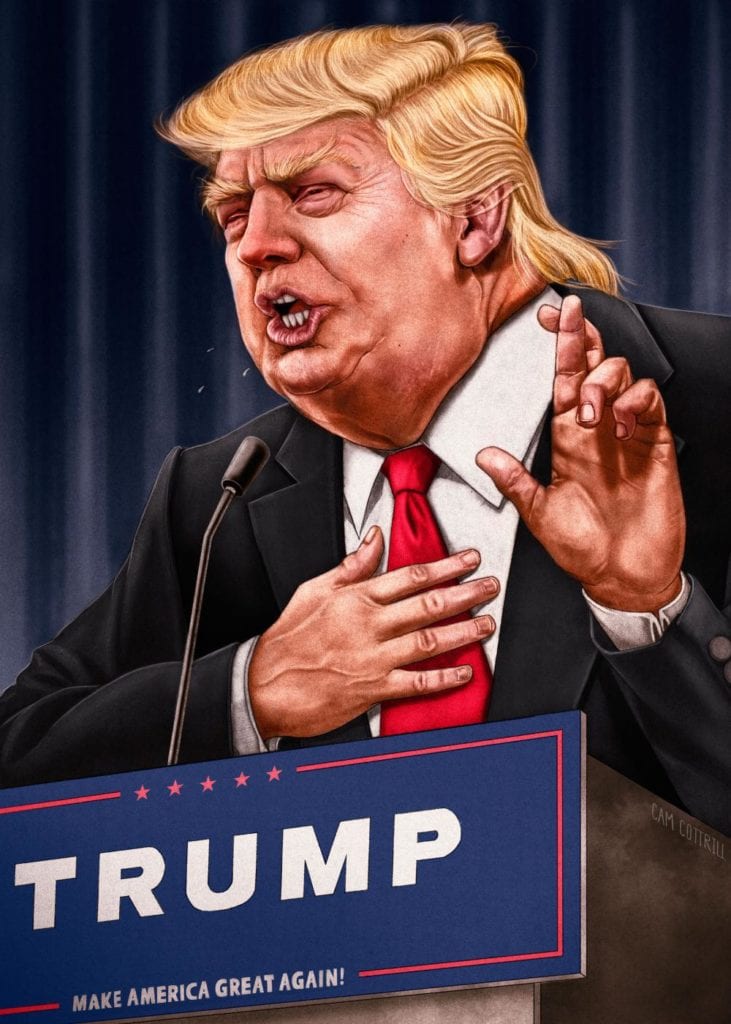 The Big Picture –
By Glynn Wilson –
Since television celebrity businessman Donald J. Trump shocked the world and became president of the United States, the news has become so dissonant it's hard to find a place to enter the conversation with facts that matter.
This is especially true since it doesn't seem to matter to a large segment of the American public, which would apparently rather have a liar-in-chief than a commander of the facts.
It also doesn't seem to matter to anyone in the Republican Party, even members of Congress who are now bowing down to Trump the king and kissing his ring as if he were a monarch who inherited the throne or a mob boss who would put out a contract to kill anyone who disagrees with him or challenge his policy proposals.
There do appear to be a few judges who seem willing to stand up to Trump, as demonstrated Thursday by U.S. District Judge James Robart in Seattle, who refusal to reinstate a temporary travel ban on refugees and citizens from seven Muslim-majority countries.
But Trump clearly doesn't recognize the legal authority of the courts, dispatching his idiotic and unqualified staff to Fox News to bash the judge and promise to challenge the ruling from the White House.
"SEE YOU IN COURT," Trump said in a Twitter post on Thursday after a ruling by a three-judge panel of the 9th U.S. Circuit Court of Appeals in San Francisco, which upheld a lower court's suspension of his ban, calling the ruling "disgraceful."
How are we supposed to cover a president "fairly" who actually believes he can fool at least a majority of the people with "alt-facts?"
As we have indicated before, we believe it is a mistake for the mainstream media to normalize Trump's presidency, but that's exactly what's going on. Trump is what he is and he's not going to change.
Therefore, we cannot cover him as if he was normal and everything will be okay.
It was interesting to see a message to staff recently from Reuters Editor-in-Chief Steve Adler, who basically said the international wire service plans to cover the Trump administration the same way it covers dictators in other countries, including Russia, which Trump seems to admire so much.
The first 12 days of the Trump presidency … have been memorable for all – and especially challenging for us in the news business. It's not every day that a U.S. president calls journalists "among the most dishonest human beings on earth" or that his chief strategist dubs the media "the opposition party." It's hardly surprising that the air is thick with questions and theories about how to cover the new Administration.

So what is the Reuters answer? To oppose the administration? To appease it? To boycott its briefings? To use our platform to rally support for the media? All these ideas are out there, and they may be right for some news operations, but they don't make sense for Reuters. We already know what to do because we do it every day, and we do it all over the world.

To state the obvious, Reuters is a global news organization that reports independently and fairly in more than 100 countries, including many in which the media is unwelcome and frequently under attack. I am perpetually proud of our work in places such as Turkey, the Philippines, Egypt, Iraq, Yemen, Thailand, China, Zimbabwe, and Russia, nations in which we sometimes encounter some combination of censorship, legal prosecution, visa denials, and even physical threats to our journalists. We respond to all of these by doing our best to protect our journalists, by recommitting ourselves to reporting fairly and honestly, by doggedly gathering hard-to-get information – and by remaining impartial. We write very rarely about ourselves and our troubles and very often about the issues that will make a difference in the businesses and lives of our readers and viewers.

We don't know yet how sharp the Trump administration's attacks will be over time or to what extent those attacks will be accompanied by legal restrictions on our news-gathering. But we do know that we must follow the same rules that govern our work anywhere, namely:

Do's:

Cover what matters in people's lives and provide them the facts they need to make better decisions.

Become ever-more resourceful: If one door to information closes, open another one.

Give up on hand-outs and worry less about official access. They were never all that valuable anyway. Our coverage of Iran has been outstanding, and we have virtually no official access. What we have are sources.

Get out into the country and learn more about how people live, what they think, what helps and hurts them, and how the government and its actions appear to them, not to us.

Keep the Thomson Reuters Trust Principles close at hand, remembering that "the integrity, independence and freedom from bias of Reuters shall at all times be fully preserved."

Don'ts:

Never be intimidated, but:

Don't pick unnecessary fights or make the story about us. We may care about the inside baseball but the public generally doesn't and might not be on our side even if it did.

Don't vent publicly about what might be understandable day-to-day frustration. In countless other countries, we keep our own counsel so we can do our reporting without being suspected of personal animus. We need to do that in the U.S., too.

Don't take too dark a view of the reporting environment: It's an opportunity for us to practice the skills we've learned in much tougher places around the world and to lead by example – and therefore to provide the freshest, most useful, and most illuminating information and insight of any news organization anywhere.

This is our mission, in the U.S. and everywhere. We make a difference in the world because we practice professional journalism that is both intrepid and unbiased. When we make mistakes, which we do, we correct them quickly and fully. When we don't know something, we say so. When we hear rumors, we track them down and report them only when we are confident that they are factual. We value speed but not haste: When something needs more checking, we take the time to check it. We try to avoid "permanent exclusives" – first but wrong. We operate with calm integrity not just because it's in our rulebook but because – over 165 years – it has enabled us to do the best work and the most good.
This is one of the things I like about Reuters and why I turn to the wire service's reporting first on many breaking news stories.
Also, as I learned in journalism school a long time ago, Reuters has long worked in a style that uses mostly straight reporting without a lot of quotations. Compare their work to the Associated Press and you will see far less of an attempt to "balance" stories by searching out extreme sources on "both sides" of every story. I have long felt that such reporting and writing is not in the best interest of the public in many cases and in fact allows people with extreme views to believe a distorted view of reality and see it justified by its coverage in the news.
Of course Rush Limbaugh emerged from the slime of talk radio in the late 1980s to slam the press as "liberal" and turn the public against real journalism. And Fox News came out of the muck in the 1990s to provide a patriotic conservative American news network to divert peoples' attention away from straight, factual reporting.
But it has long been my editorial opinion that many years of so-called "objective" reporting with an economic basis, not a scientific basis, no doubt contributed to the situation we find ourselves in today, when a lying, cheating presidential candidate can get himself elected — and continue the charade once in office.
As Abraham Lincoln once famously said, "You can fool all the people some of the time, and some of the people all the time, but you cannot fool all the people all the time."
Clearly Trump believes he can fool a majority of the people most of the time. It is working.
Any news organization that contributes to that belief should not have the trust of the public. We say if the press is to survive in this country in the post-print, Trump era, the entire press corps should stand up to Trump and point out the falsehoods on a daily basis. That's what we are going to do no matter what.
If you agree and want to help, there are plenty of ways you can do that.
Just like Reuters, we need sources. If you have inside information about news stories about to break, get in touch. Sources will find our framing of stories better than most.
Also, if you are knowledgeable about one of our categories of news and feel like you can write about it effectively, then take a shot and write for us. We are not paying a lot of money yet, but we do pay some for art, photos, reporting and writing with video.
Support the Web Press with a PayPal Donation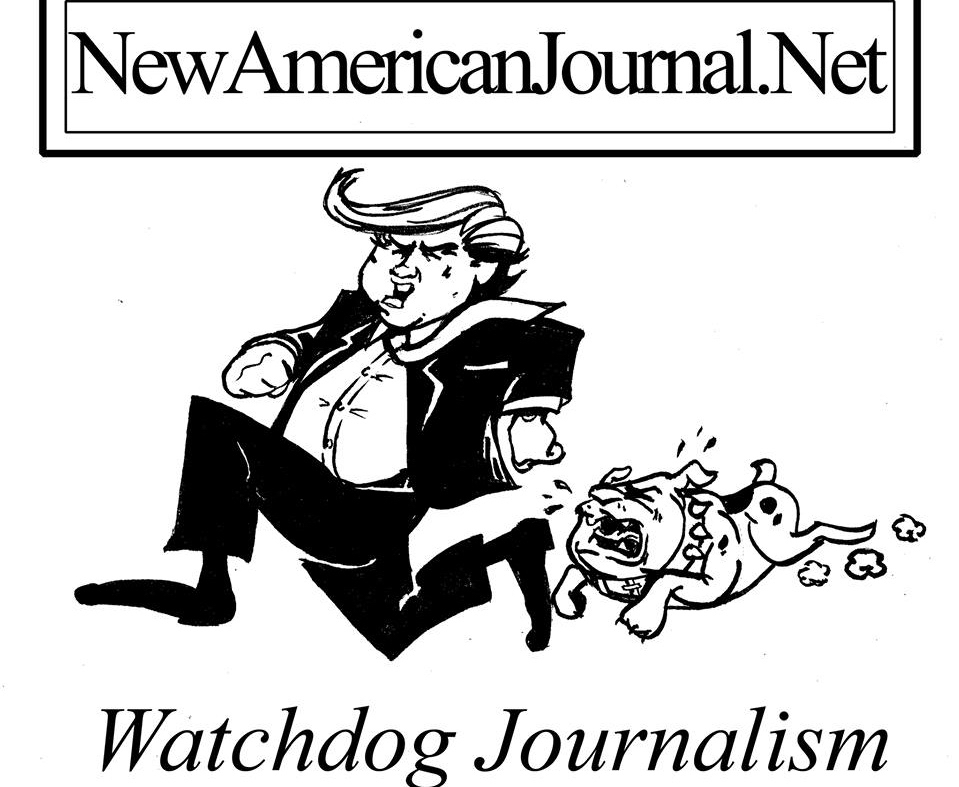 Order your Watchdog Press products here at CafePress.com.
© 2017, Glynn Wilson. All rights reserved.