By Nicholas Sheppard –
Newly re-elected Israeli Prime Minister Benjamin Netanyahu has tried to walk back his declaration, made late in the contentious political campaign, that no Palestinian state would be established on his watch.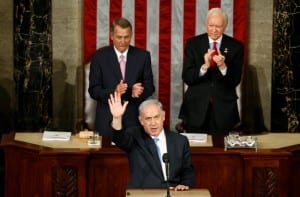 His new assertion appeared to do nothing to assuage an irate Obama Administration, and his initial remarks, designed to encourage hard-right elements of his constituency to turn out at the polls, only confirms an increasingly openly-stated view among the Israeli leadership: that the conflict with the Palestinians can only be managed, not resolved by the creation of an independent Palestinian state alongside Israel.
In a press conference mid last year, Prime Minister Benjamin Netanyahu said, "I think the Israeli people understand now what I always say: that there cannot be a situation, under any agreement, in which we relinquish security control of the territory west of the River Jordan."
Benjamin Netanyahu has stressed often in the past that he doesn't want Israel to become a bi-national state — implying that he favours some kind of accommodation with and separation from the Palestinians. But these recent comments make it clear that this could not extend to full Palestinian sovereignty. Simply put, Israel doesn't think it needs a separate Palestinian state to feel safe. The calculus is that, given the march of Islamic extremism across the Middle East, Israel simply cannot afford to give up control over the territory immediately to its east.
"If we were to pull out of Judea and Samaria, like they tell us to, there'd be a possibility of thousands of tunnels," Netanyahu explained. "At present we have a problem with Gaza." Giving the West Bank back to Palestinians would "create another 20 Gazas," he said.
Meeting Netanyahu's criteria for some continued Israeli security control of the West Bank would all but rule out an end to the Israeli occupation of the area. Any Palestinian state in the West Bank would still functionally exist under occupation, a non-starter for the Palestinians as well as those in the international community pushing for a lasting peace. The alternative would be a single state in which Palestinians are residents but not full citizens.
The official Israeli line is that the settlements don't preclude a two-state solution and that withdrawal of some settlers and land swaps elsewhere could still yield a viable Palestinian state. In the eyes of many, that possibility has already faded. The settlements are scattered all over the West Bank, as well as in East Jerusalem — which the Palestinians would want as the capital of their independent state, and it's hard to imagine any Israeli government would be willing to go through the disruptive, prolonged process of relocating many hardened, fundamentalist settlers from the West Bank. Certainly not this government: settlers form a key constituency for some of the parties that will be in Netanyahu's eventual ruling coalition.
Since the Declaration of Principles at the 1993 peace accords, Israel has drifted further to the right. The governing coalition going into the recent election included the radical far right Jewish Home party led by Naftali Bennett and the Israel Our Home party led by Foreign Minister Avigdor Lieberman. Both are ardent advocates of the total annexation of the West Bank. Bennett believes in a single state with the annexation of all Israeli settler territories into Israel and "separate rules" for Palestinians living in the West Bank. He recently said the two-state process had reached a "dead end" and that the "Palestinian problem" should be thought of like "A piece of shrapnel" lodged in one's rear end.
Israel's movement to the right has effectively made Netanyahu a political centrist, even though he advocates for an indefinite security occupation of the West Bank that would just be a more formal continuation of the current occupation policy.
There are still some influential moderate and progressive voices: Former Israeli Prime minister Ehud Olmert has stated, for example, that the collapse of the two-state solution would precipitate "a South African-style struggle for equal voting rights."
Nevertheless, Israel's current leadership is unequivocal: The occupation cannot and will not be ended; Hamas will administer Gaza and the Palestinian Authority will administer the West Bank, both under the supervision of Israeli security control. Progress toward a two-state solution remains illusory; for the foreseeable future, the status-quo will be enforced, by military force if necessary.
"I think we have some period of time — in one to one-and-a-half to two years — or it's over," United States Secretary of State John Kerry is quoted as saying at a House hearing about the mission to find an agreement between the Israelis and the Palestinians. Those remarks were delivered in April of 2013, almost two years ago.
Republished with permission from The Sheppard Post.
© 2015, Glynn Wilson. All rights reserved.