Only 22 Percent of American Voters Say Members of Congress Deserve Re-election –
By Glynn Wilson –
With just six months to go before the midterm elections, 72 percent of registered voters in the U.S. say most members of the 113th Congress do not deserve to be re-elected, while only 22 percent say they do. According to the latest Gallup poll, this year's election climate is shaping up to be the worst year for incumbents in Gallup polling history.
But will it really motivate enough voters to throw their own member of Congress out of office in November?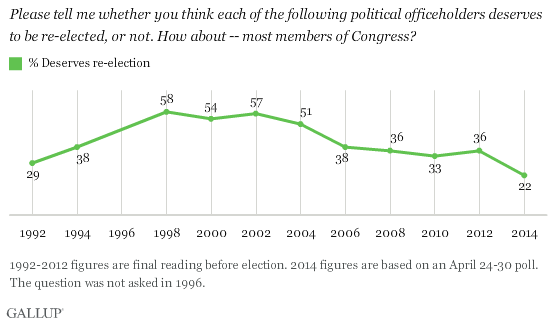 While the percentage of voters who say most incumbents deserve re-election is up slightly from the 17 percent in January, 22 percent is lower than Gallup has measured in any other election year ever.
The problem as always with this type of survey is that voters always seem more positive about their own member of Congress than Congress as a whole, as polls have shown at least since 1992. When asked if their own member of Congress deserves re-election this year, 50 percent say they do.
But the historically low job approval rating of the 113th Congress — only 15 percent of voters approve of the job this Congress is doing — could set the groundwork for more turnover than usual, Gallup suggests.
"A logical consequence of such dim views of Congress and its incumbents is that voters may take out their frustrations at the ballot box," Gallup says in its analysis of the public opinion data.
Incumbent members of Congress are generally successful at getting re-elected. About nine in 10 who run win, election data shows.
"However, the re-election rate tends to be lower in years when voters are less apt to think their own member or most members of Congress deserve re-election," Gallup says.
In 1992 and 2010, when roughly 30 percent of registered voters thought most members of Congress deserved re-election and half thought their own member did, the incumbent re-election rate in the House dropped below 90 percent. In the 1998-2002 elections, when U.S. voters were much more positive toward Congress, the re-election rates reached 96.
"The relatively low percentages of American voters saying members of Congress deserve re-election suggest that incumbents may be less successful than usual in winning re-election this year, being vulnerable to defeat by a challenger from their own party in their primary election or from the opposition party in the general election," Gallup concludes.
Are you satisfied with Congress as a whole or your member of Congress? Let us know in the comments.
Survey Methods
Results for this Gallup poll are based on telephone interviews conducted April 24-30, 2014, with a random sample of 1,336 registered voters, aged 18 and older, living in all 50 U.S. states and the District of Columbia. For results based on the total sample of registered voters, the margin of sampling error is plus or minus 3 percentage points at the 95 percent confidence level.
© 2014, Glynn Wilson. All rights reserved.