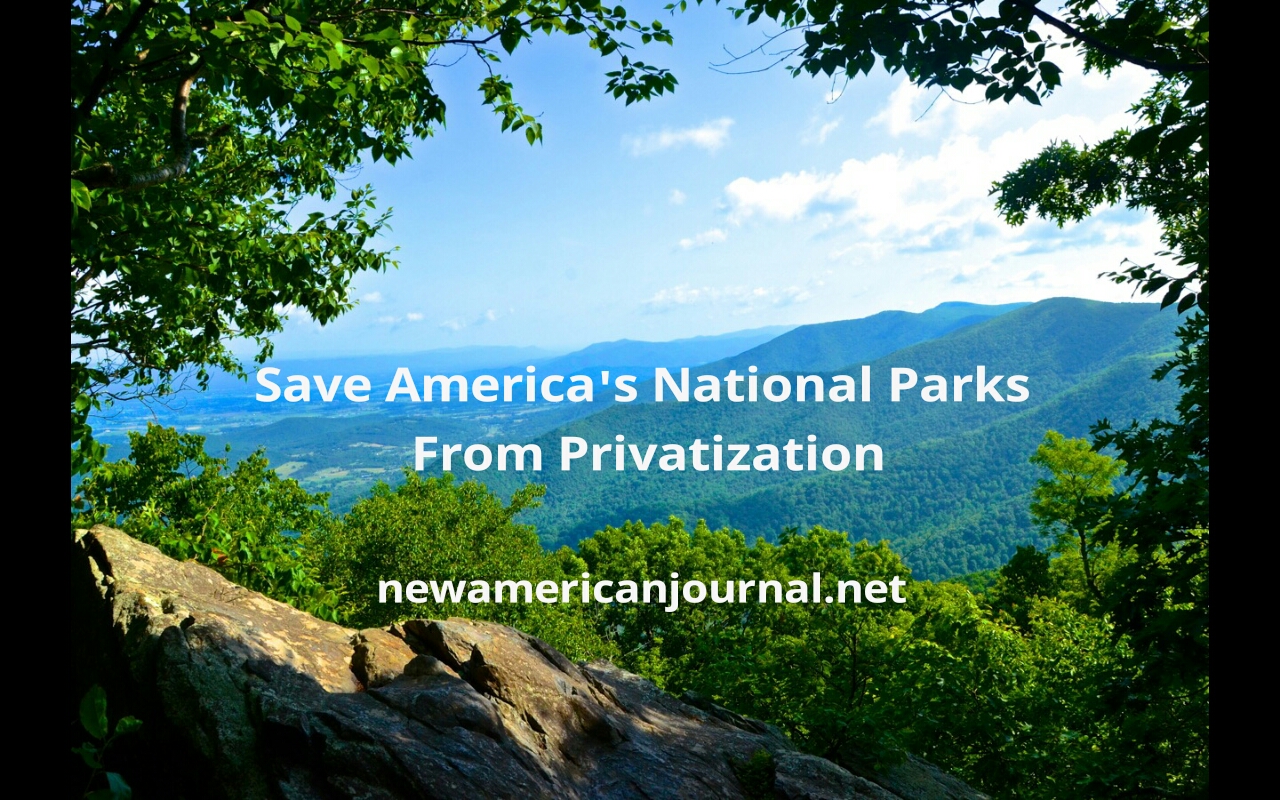 The Big Picture –
By Glynn Wilson –
John Muir is turning over in his grave.
I am about to go on the warpath.
Where is Bernie Sanders, President Barack Obama, the head of the Sierra Club, Secretary of the Interior Sally Jewell and Ken Burns on the 100th Anniversary of the National Park Service? See below.
The Washington Post carried a story this morning detailing the latest moves toward commercialization and privatization of our national parks, under this ridiculous and infuriating headline: Yosemite, sponsored by Starbucks? National Parks to start selling some naming rights.
To its credit, the nation's capital newspaper also ran an editorial decrying this idea.
Park Service and corporate advertising, a dangerous mix
If you are comfortable with the idea of a Yosemite National Park visitor's center and auditorium being sponsored by Coca-Cola, a tour bus to Bryce Canyon sponsored by the Michelin Man, park benches named for Humana health insurance and bear-proof lockers emblazoned with the Nike swoosh, go ahead and vote for Donald Trump for president and let's just get it over with. Let's just get rid of the National Park Service and all the great rangers on the federal payroll, privatize the national parks and build Trump and/or Delaware North casinos in the Mountains of Yellowstone and Shenandoah.
I guess this is what we get by sitting idly by as President Barack Obama appointed a commercial banker as head of the Department of the Interior to lead the agency into a new century, what looks to be a century of commercialism.
To get a view of where the Park Service is headed, look no further than this internal planning document, posted on the agency's Website.
Director's Order #21: Philanthropic Partnerships
Parks have long relied on philanthropy to pay for improvements, interpretive programs, trail renovations and other projects left uncovered by their operating or capital budgets, according to the Post, and in return, donors get unobtrusive recognition — maybe a small plaque near a trail or a certificfate thanking them for their generosity and service.
[Disclaimer: I received a free pass to all of America's national parks this year for more than 500 hours of volunteer service as a campground host in Shenandoah National Park and Greenbelt National Park.]
The Park Service is commemorating its 100th year with a $350 million fundraising campaign that for the first time allowed large banners in the parks featuring donors' corporate logos. Director Jonathan Jarvis wants to swing open the gates of the 411 national parks, monuments and conservation areas to an unprecedented level of corporate donations, according to the Post, broadening who can raise money, what that money will be raised for and what the government will give corporate America in return.
Jarvis proposed the expanded rules for philanthropy in March in a 33-page order that's set to take effect by the end of the year.
Allegedly, the Park Service won't recognize donors with advertising or marketing slogans. But for the first time, their logos will get prominent display. Companies will be able to earmark gifts for recurring park expenses, which was prohibited before. And a company in litigation with the Interior Department, the Park Service's parent agency, could now donate as long as the dispute does not involve a national park.
What is going on? Is the lame Republican Congress so intent on denying the federal government money that we have to agree to a total sellout of our great national legacy of protecting nature for future generations?
Are you mad enough yet to do something? Keep reading. It gets worse.
Naming rights will now be allowed on paving stones on the steps in the park, video screens, educational programs, interpretive documents, park research, even youth recreation programs?
Donors will now be allowed to design and build a park building and even operate it long term?
Park officials claim the capitalist, commercial shift is necessary due to an $11 billion backlog in maintenance projects, "flat funding from Congress" and a need to attract young and diverse visitors that the right corporate partnerships might be able to encourage.
Really? Who thinks it's a good idea to get Budweiser-swilling redneck teenagers tailgating in the national parks and trashing these places we are supposed to be protecting, not just selling them to tourists?
"Our needs are astronomic," said Will Shafroth, president and chief executive of the National Park Foundation, the Park Service's fundraising arm. "The parks don't have enough money to accomplish their goals."
Last year, Jarvis, who has been accused of unethically profiting himself from his public position and should be fired immediately, lifted the policy against taking money or advertising support from companies that make alcohol, signing a $2.5 million marketing deal with beermaker Anheuser-Busch it hoped would help draw millennials to the parks.
New flash for Jarvis: Millinnials don't drink Bud. They seek out the best legal herb they can find and local brew pubs with IPA.
Budweiser kicked off the partnership with a summer music program in the parks, packaged beer bottles in an image of the Statue of Liberty and issued a news release citing the brand's pledge "to safeguard these breathtaking landscapes and places of cultural and historical importance, and inspire generations of national parks enthusiasts." But the beermaker stumbled the same week when the phrase "The Perfect Beer For Removing 'No' From Your Vocabulary For The Night," printed at the bottom of Bud Light labels, was widely panned as encouraging sexual assault.
The company backed off of the slogan, and while it did not appear inside the parks, critics questioned the Park Service's association with the company.
Jeff Ruch, executive director of Public Employees for Environmental Responsibility, a watchdog group that's trying to rally the park community to fight the plan, is saying that under this plan, "Every developed area in a park could become a venue for product placement."
A telecom company could say, 'Nice mountain. We'll make a generous donations for the right of way,' " he said. "You could use Old Faithful to pitch Viagra, or the Lincoln Memorial to plug hemorrhoid cream. Or Victoria's Secret to plug the Statue of Liberty."
Yellowstone Superintendent Dan Wenk says Toyota and ConocoPhillips have paid for crucial needs in recent years that the park could not have afforded.
But maybe the parks should reconsider selling out to oil companies and foreign auto manufacturers.
The National Park Service was established under the Department of the Interior by an act of Congress signed by President Woodrow Wilson on August 25, 1916 with the mission to protect the ecosystems in the national parks for future generations.
Clearly there is a growing movement on the political right to get rid of the government agency by privatizing the national parks, not just commercializing them. This is a position being championed by the infamous libertarian Koch brothers and the politicians they buy, including Presidential candidate and Texas Senator Ted Cruz, who has already introduced a bill in Congress to do just that.
The mainstream media pundits and news organizations consider this a non-starter, since the bill has no chance of passing in this Congress. Even if it did pass President Obama would surely veto it.
But what if Donald Trump, the presumptive Republican nominee for president, wins in November, a distinct possibility? The privatization movement could gain steam and we could lose America's "best idea" not just to corporate sponsors, but to corporate owners.
This is a point that seems lost in today's mixed up political debate. The American public doesn't realize that the parks are already privatized in a big way. Private concessionaires already control the profitable operations in our national parks and they are sucking the profits out, all while the National Park Service cannot get another dime out of Congress simply to fund maintenance.
They should wake up and realize the money the parks need is right there in front of them, slipping through their fingers and out the doors every day with every purchase of a Coke or a meal, a Yellowstone T-shirt or a bundle of firewood in Shenandoah. The provate concessioners are sucking the profits out. While the Park Service recieves a small portion of the profits, most of that money goes into the hands of the owners of private companies.
In fact, a private company with mob ties runs the restaurants, stores and even gets the proceeds from pay showers and firewood sold in at least three of the major parks. In Shenandoah, Yellowstone and the Grand Canyon, Delaware North – a company that makes much of its money from gambling – runs the show, in more ways than one.
The company lost the contract for Yosemite back in January, but arrogantly sued the National Park Service claiming it owned the names in the park as intellectual property.
Where is John Muir's non-profit organization set up to establish and protect the national parks, the Sierra Club? Nowhere to be found in this fight.
In his most recent blog column, in fact, Sierra Club executive director Michael Brune penned an open letter to Charles G. Koch welcoming him to join the club in its fight against climate change due to global warming from the burning of fossil fuels.
I don't want to join up with the Koch brothers or Donald Trump or Budweiser. I want the commercialism and the for profit privateers kicked out of the national parks for good. Will Ken Burns join me? Will you?
An Awesome Responsibility: Respect and Protect Shenandoah
Save America's National Parks From Privatization
© 2016, Glynn Wilson. All rights reserved.