By Glynn Wilson –
Alabama's embattled Republican Governor Robert Bentley has been convinced he has no choice but to resign or face an impeachment trial, be removed from office and perhaps face jail time in an episode that is reminiscient of Richard Nixon resigning the presidency on August 9, 1974.
Only Bentley is not being accused of knowledge of illegally spying on Democrats and covering it up. He is being accused of using state resources to carry on an affair of a sexual nature with an aide and covering it up.
The state House Judiciary Committee was sheduled to take up impeachment hearings beginning at 10 a.m. on Monday after a damning report was released by the committee on Friday.
The report portrays Bentley as obsessed and paranoid and says he encouraged an "atmosphere of intimidation" in his administration to keep the story of his alleged affair with Rebekah Caldwell Mason, a former news reporter from Tuscaloosa, from coming to light. It says he illegally directed law enforcement officers to track down and seize the recordings that proved the relationship.
The report also cites the Alabama Ethics Commission findings from April 5 that found probable cause to believe that Bentley violated the Alabama Ethics Act and the Fair Campaign Practices Act by using public resources for personal gain, receiving campaign contributions past the 12 day window after his election, making a $50,000 loan to his campaign account more than 120 days after his election and using campaign funds to pay legal fees for Mason.
While each of these charges could be a Class B felony under state law, Bentley negotiated a deal to be charged with two misdemeanors in exchange for an end to the impeachment trial and perhaps avoid other more serious charges. He was granted probation, will serve no jail time and pay minimal fines. In exchange, he must surrender $36,912 in campaign funds and perform 100 hours of community service as a physician. He cannot seek public office again and had to give up his state retirement benefits and state paid security. He never did draw a salary, after promising to get the state to full employment, which never happened.
Monday Morning
According to a report out early Monday from the Associated Press, Bentley was accused of using state resources to hide his alleged affair with a top aide and was to face impeachment hearings. The committee's special counsel, Jack Sharman, detailed the evidence against Bentley in a report that included salacious text messages, documents and audio files.
The governor's lawyer defended Bentley, saying the report was an "amalgam of hearsay, rumor and innuendo."
But on Monday morning, after a steady stream of Bentley's friends and confidants spoke with the governor since the report's release, Bentley reached an agreement with state lawmakers and law enforcement officials to step down and avoid an impeachment trial, forcible removal from office and possible jail time.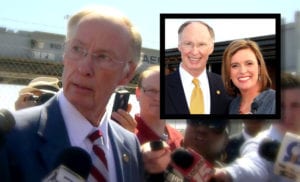 According to one news site in Montgomery, the terms of the deal were not immediately available Monday morning, but the word was out. Rumors of the alleged affair have been "the talk of the state and the fallout has weighed heavily on the 74-year-old Bentley," according to reporting from the Alabama Reporter.
The investigative report, which in places reads like a sleazy romance novel, contains proof that was previously only rumor and speculation, some of which had been reported as fact by local news outfits. Readers already knew about a secret cell phone recording made by Dianne Bentley on a trip to the governor's mansion in Gulf Shores while she went for a walk on the beach. It contains sexually suggestive remarks, but is not proof of a physical relationship.
The Proof Comes Out
The report also contained text messages that the governor sent to Mason on his cell phone, which was connected by a storage icloud to the governor's state-issued iPad, which he did not like or use and had given to his wife of 50 years, Dianne Bentley. She and her assistant Heather Hannah were able to intercept and preserve all the messages, which were entered into evidence after she divorced him.
"I sure miss you. I need you," one message read. "I want you. You are the only one."
The report also documents many ways the governor and Mason found ways to spend time alone together, in his office in the old Capitol in Montgomery, on a state plane that took trips to Washington and Las Vegas, later on a private charter plane when Mason was no longer on his staff officially during the second term, and at the governor's mansion in Gulf Shores. But they did not hide their affair well. Many staff members were aware of what was going on and some got caught up in the coverup. Others quit or retired.
Talks about Bentley's resignation apparently began in earnest on Friday, with Republican lawmakers and party officials making in-person pleas to Bentley urging him to resign and avoid the trial and jail. House Speaker Mac McCutcheon and former Rep. Elwyn Thomas were among those who talked with Bentley. The lawyers were already negotiating the deal with the special prosecutor as well by then.
Public calls for Bentley's resignation have been going on all over social media for months, but official calls have recently come from Republicans such as McCutcheon and Senate President Pro Tem Del Marsh. The Alabama Republican Party leadership issued a public call for the governor's resignation on Sunday, and the governor agreed on Monday, after his lawyer and the special prosecutor reached an agreement on the plea deal.
While his resignation allows Bentley to avoid impeachment, he could still be indicted, tried and convicted in a separate criminal trial if a separate grand jury were to take up the Rebekah Mason affair. Special prosecutor Ellen Brooks also said the state investigation is not over, although it was unclear if her role in the investigation would be concluded by the attorney general's office.
Voter Suppression
It becomes clear from the report that Mason was instrumental in pushing the plan to close down motor vehicle bureaus in poor, minority counties where people obtain a drivers license, required now by law for voter identification. It is not clear what her motivation was, other than Republican voter suppression of Democratic votes.
There are other moneys to be accounted for by Mason, and her husband Jon Mason, who has now been fired by the state from the office of Faith-Based and Volunteer Services created by Bentley, where Mason was paid $90,000 a year. He and Rebekah Mason failed to report tens of thousands of dollars of income earned through consulting work for Bentley's campaigns and the University of Alabama.
Meanwhile, Lt. Governor Kay Ivy will take over as governor under the state constitution's office succession order, making her the second woman governor of Alabama. She was sworn in Monday evening.
Lurleen Wallace, the wife of George Wallace, was elected in 1967 and became the first woman governor in 1968. George Wallace had served two terms and could not run again.
Perry O. Hooper Jr., co-chair of Donald Trump's campaign for president in the state and a former member of the state House, issued a statement urging Democrats and Republicans to come together to fund Medicaid and face other important legislation for the state to move forward.
"It is time for all Alabamians Republicans, Democrats and Independents alike, to rally around Governor Kay Ivey as she takes over as Governor," Hooper said.
He called on the legislature to "put this chapter in our state's history behind us and get to work on the important issues facing our state such as prison reform, medicaid funding, the myriad infrastructure issues we face and passing the state budgets."
Another Tragic Chapter in State Political History
This marks not a comic chapter in the state's history — as it has been reported by the Newhouse newspapers and their online news site Al dot com, the mainstream media turned salacious tabloid — but a tragic one.
Since Governor George C. Wallace climbed his "last political mountain," as he said in his fairwell address in 1986 when he said he would not seek another term after being elected to a fourth term in 1982, the conservative state has struggled to find competent leadership capable of running the government.
In another election fiasco worthy of a Shakspearian tragedy, Guy Hunt was elected in 1986 as the first Republican governor of the state in 100 years since federal Reconstruction in the wake of the Civil War. After the Democratic Party determined that Charlie Graddick won the party's primary in 1986 by calling for illegal crossover Republican votes, and handed the party's nomination to Bill Baxley — who was caught up in a sex scandal of his own — Hunt skated into office and became known as a lightweight in his own right.
He had to be removed from office in 1992 after a grand jury indicted and a jury convicted him for theft, conspiracy and ethics violations for taking $200,000 from a 1987 inaugural account and using it to buy a marble tub and shower for his double-wide trailer in Holly Pond, north of Cullman, and other things, including expensive suits and a lawnmower
Hunt, a chicken farmer, Primative Baptist preacher and Amway salesman prior to his election, had also improperly used a state plane to fly to preaching engagements where he took "Love Offerings," in some cases disguised campaign contributions from paper companies and the like. But he was never really investigated and certainly not convicted for those offenses. Attorney General Jimmy Evans followed the paper trail on the inaugural money. That was enough to get rid of him.
Hunt should have been indicted in an earlier scandal for unethically and illegally using the resources of a federal office to run his first campaign. He was never officially investigated for that. I am the only journalist to publish a story about it at the time. It later came out in a book.
Hunt was forced to resign on April 22, 1993, since the state constitution does not allow convicted felons to hold office. After being ordered to pay $12,000 in restitution, Hunt began a five-year probation term in 1994. In February 1998 he asked the parole board to reduce his probation by four months, but the judge increased the probation by five years. In April 1998, having served the full sentence and paid his fine, the parole board granted Hunt a pardon. He died on January 30, 2009, after a long battle with lung cancer.
In 1993, as Lt. Governor, Democrat Jim Folsomn Jr. ascended to the governor's office but failed to win reelection in 1994 after recruiting the Mercedes plant to come to Tuscaloosa. So another Republican, Fob James, took the reins in 1995 and proceeded to embarrass the state in a number of ways, including a monkey imitation he used for humor at speaking engagements, disavowing the science of evolution by saying he was "no descendent of a monkey."
This opened the door for another Democrat, Don Siegelman, in 1998, who won in a single issue campaign to bring a lottery to fund education to the state, like Georgia. But Siegelman failed in his attempt to get a lottery through the legislature, and was unsuccessful in his bid for reelection in 2002, although investigations showed there may have been voter fraud involved. He lost by 3,200 votes that switched over night in Baldwin County.
Republican Bob Riley was declared the winner by potentially tainted, partisan legal authorities in Montgomery. He served out his two terms during the Bush years without being tainted by scandal in the mainstream media, although there was evidence he inappropriately took campaign contributions from out of state gambling interests to keep legal gambling out of the state.
Siegelman would later face criminal charges and be convicted for bribery after he tried to run again in 2006. But the investigation was tainted by charges that it was a "political prosecution."
Then Bentley, a dermatologist from Tuscaloosa who had only been an unimpressive back bencher in the legislature, took over as governor in 2011.
Critics of the Republicans in Alabama point out that now all three branches of government are tainted by scandal. Republican Speaker of the House Mike Hubbard was convicted of corruption and removed from office. Republican Supreme Court Chief Justice Roy Moore is on suspension for defying a federal judge's order making same sex marriage legal. And now the governor has been forced to resign.
Democrats and progressives say the people in the state must get more involved in public affairs by participating in making government and democracy work and finding qualified people to run for office, or the state's backwater place in U.S. political history will continue. First, a majority of the people would have to admit that government matters and stop electing politicians with no experience who run against the government as a campaign issue.
Mobile resident David Underhill noted that national Republican political assassin Grover Norquist famously said years ago that he hoped to shrink the federal government down to a size where it could be drowned in a bathtub. Underhill says, "All three branches of Alabama's government have now improved on that formula by drowning themselves in slime."
© 2017, Glynn Wilson. All rights reserved.