By Glynn Wilson –
Opponents of the Dakota Access Pipeline are reporting through social media that they are being targeted and harassed by law enforcement and local businesses throughout the Bismarck and Mandan areas, according to a report out from the Native News.
The State of North Dakota issued a statement early Tuesday morning saying that it will stop any vehicle that appears to be heading towards the Oceti Sakowin camp with supplies and food, citing Republican Governor Jack Dalrymple, who signed of an "emergency evacuation" order on Monday due to inclement weather. Officers will warn them that they are violating the governor's order and can be fined up to $1,000.
North Dakota Governor Orders Emergency Evacuation of Standing Rock Camp
Anyone driving a vehicle that looks like it may be heading towards camp, perhaps with a #nodapl bumper sticker, is subject to being stopped and questioned by police.
While on his way to the University of Arizona to speak on a panel on the Dakota Access Pipeline, International Indigenous Youth Council member Layha Spoonhunter said he was targeted by Bismarck Municipal Airport Law Enforcement. Dressed in a Pendleton jacket, Spoonhunter noticed several Morton County Sheriff's Department deputies noticeably pointed at him and held a conversation while monitoring his activity causing him an uneasiness as a consumer of services only available in the area.
"I felt like I shouldn't have been there, that they were trying to intimidate me," Spoonhunter said. "They know I'm a member of the indigenous media covering the pipeline in Standing Rock and that I support NODAPL."
While escorting other visitors to the Bismarck Municipal Airport, Indian Country Today Editor Gyasi Ross was pulled over during inclement weather with hundreds of vehicles stranded throughout the city. Attending the Mni Wiconi Benefit Concert over the weekend, Ross said when the officer approached his vehicle that an anonymous phone call reported Ross's vehicle almost ran another person over.
"When the officer came to my window, he said the reason I was pulled over was because of a phone call stating I 'damn near ran someone over,'" Ross said. "I asked if they recorded information about the person calling and, of course, they didn't."
"These are simply scare tactics that aren't new to people of color," Ross said. "It is simply intimidation towards a group of people based on their views and, of course, their color of skin."
Another group of #NODAPL supporters taking a break from camp were staying at a Comfort Inn in Bismarck and decided to stay another night due to weather conditions only to find out their reservations for an additional night were cancelled due to questioning by employees of whether or not they supported or opposed the Dakota Access Pipeline.
"We decided to go to Bismarck to get a break from camp and to find a nice warm place to stay," said Kanti Devi. "And with the weather prohibiting safe travel we decided to stay another night. It was then that one of the employees called our room asked if there was any way we were involved with the protests against the Dakota Access Pipeline."
"I'm not one to lie," Devi said. "And when I told him that we were involved, it was then that he expressed they will refuse us service and canceled our reservation."
Kanti Devi is of Hawaiian/Filipino and Scandinavian descent from Seattle, Washington and has been camped at Oceti Sakowin for the past two months and decided to head to Bismarck for a warm place to refresh her group. Describing that she has some color to her skin, she expressed that this is the first time in her life she has been discriminated based on choices over skin color.
"Although it is really disappointing to be treated unfairly because of an issue, we choose to respond with love and simply left," Devi said. "We are at a time where disrespect should not be allowed and realize this is only one person. We are safe in another location."
Other reports show that Ace Hardware stores in the vicinity of the pipeline protest camps have been requested by law environment officials to refrain from selling materials that could be used at the camps, according to a statement issued by the company.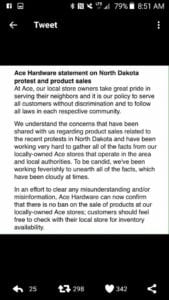 "Ace's number one priority is to protect the safety of its employees, customers and the communities each store serves," the company said in a statment. "Ace will continue to cooperate with law enforcement officials. Ace's compliance is not a reflection of any corporate viewpoint on the pipeline project."
After facing controversy for that statement, the company issued another one later saying in order to clear up any misunderstanding or "misinformation."
"Ace Hardware can now confirm that there is no ban on the sale of products at our locally-owned Ace stores."
Meanwhile, a group of U.S. military veterans that could top 1,000 is planning to "deploy" to join the Standing Rock Sioux Tribe by Dec. 4 and peacefully support the water protectors' fight against the controversial Dakota Access Pipeline near Cannon Ball, North Dakota.
Veterans Group Plans 'Deployment' to Join Dakota Access Pipeline Protest
While some of the tribal leaders are urging a tactican retreat back to reservation land south of the Cannonball River where a winter camp is being prepared, many of the protesters are planning to remain in the camp and take a stand. This is setting up a historic confrontation in the war for human rights and social justice on the magnitude of Bloody Sunday in Selma, Alabama, and the whole world really is watching this time, live on Facebook.
Standing Rock Pipeline Protestors Vow to Defy Eviction Order and Remain Camped on Public Land
© 2016, Glynn Wilson. All rights reserved.