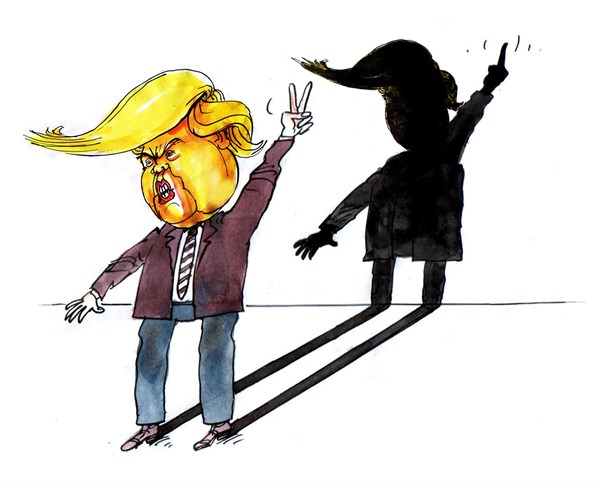 The Big Picture –
By Glynn Wilson –
What's the point of celebrating Labor Day anymore? Like many things these days, people have forgotten the history and do not appreciate it beyond the day off to eat barbecue and jump in the water.
There's not much in the way of news to report about Amerian labor this year, except to say that most of those who remain members of the declining labor unions, mosly older white men especially in the South and West, will vote for Donald Trump for president in a couple of months, a guy with a long record of screwing workers.
Everyone Gets It Wrong About Donald Trump and White Voters
There is one non-profit group intent on representing workers who protect the environment worth quoting this week, a group you've probably never heard of: Public Employees for Environmental Responsibility.
They represent park rangers, biologists, toxicologists, inspectors and weather forecasters, for example. The group put out a statement this week concluding that "this is not the golden age of public service."
They also put out a few facts that get lost in today's political rhetoric, which is still bogged down in divisive partisan language about the size of the federal government — as if that was the real problem in the way of "Making America Great Again."
According to federal statistics, the national government civilian workforce is now made up of fewer employees than anytime since 1966. During the past 50 years, as the U.S. population has grown by roughly two-thirds, the number of federal workers to serve this increase in demand has shrunk considerably.
But don't believe a fedeeral union, or a so-called "liberal journalist" like me. It was reported by Rupert Murdoch's Wall Street Journal, you know, the same guy who owns Fox News.
The Federal Government Now Employs the Fewest People Since 1966
The only recent increase in federal staffing has occurred in agencies that have declined to the point of being "bureaucratic basket cases," such as the Veterans Administration and the IRS.
At the same time, and equally at odds with the political rhetoric, federal emplyee wage levels have essentially been flat for years. Furloughs, retirement and benefit cuts have eroded overall compensation, and so not surprisingly, according to the Federal Times, federal employee morale is depressed.
Aggravating these trends, the number and percentage of federal employees eligible to retire is accelerating – between a third and a half of total workforce in some eco-agencies. They are not being replaced at the same rate they are leaving, adding to staff shortages and burn-out. At the same time, many of these retirees are specialists whose expertise is not being replaced, nor do agencies have strategic plans to prevent or mitigate this "brain drain", according to a number of sources, including this study.
Recent Trends in Federal Civilian Employment and Compensation
All of this is occurring as we approach a presidential transition year in a campaign in which "the quality and capacity of the federal workforce is hardly a campaign issue," PEER says.
"Regardless of who is elected, PEER is planning to inform both the transition and the confirmation process for new nominees about the realities in the trenches of the organizations they will soon lead," according to the group's statement.
They are in the process of conducting surveys of employees in the field offices of "embattled agencies" like the National Park Service about what the next president and cabinet secretaries should know and do. They are trying to recruit recent retirees to chart roadmaps for fixing the departments to which they dedicated their careers, and they are putting together reform plans to refocus agencies on their core mission.
"Continued drift will only accelerate already galloping institutional disability, to the detriment of public health and safety, as well as the environment," the group says. "While little about the current presidential campaign exhibits an appetite for a conversation about Reinventing Government, it is vital that this dialogue begins in earnest right after Election Day."
Parks Stumble into Second Century with Growing Gaps and No Coherent Game-Plan
Of course president Barack Obama focused on the history of Labor Day in his weekly radio address. But how many Americans were realy listening? We'll wager not very many. But if you care enough to pay attention, here's the video.
© 2016, Glynn Wilson. All rights reserved.