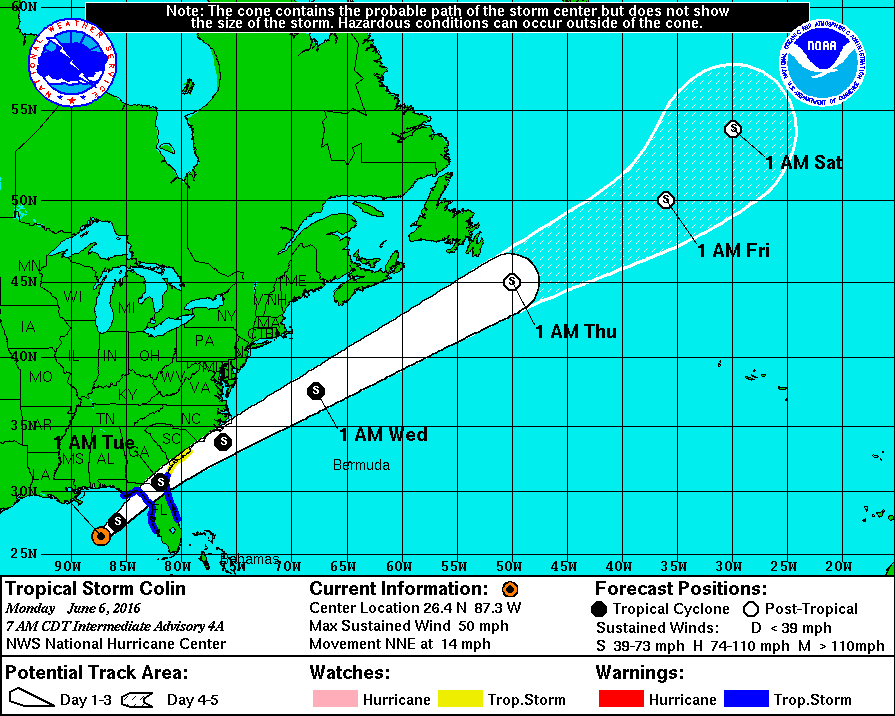 A tropical depression forming in the Gulf of Mexico over the weekened has been upgraded to Tropical Storm Colin by the National Hurricane Center, and the National Weather Service has issued a tropical storm warning for Florida's Gulf Coast.
Expected to hit the coast by Monday afternoon, Colin's outer bands are already drenching parts of Alabama, Florida and George. Forecasters warned of severe thunderstorms along the East Coast and with the threat of flooding and high winds.
By Monday morning, heavy rain from Colin was spreading northward toward Alabama, Florida and Georgia. At 2 a.m. EDT, it was about 410 miles southwest of Tampa, with maximum sustained winds of 40 mph, moving north at about 10 mph.
A tropical storm warning remains in effect from Indian Pass to Englewood, and from Altamaha Sound to Sebastian Inlet.
Colin is the second named storm in a week at the beginning of what is expected to be a brisk Atlantic Ocean hurricane season running through Nov. 30.
Over Memorial Day weekend, the Carolinas were lashed by heavy rain and winds from Tropical Storm Bonnie. The first hurricane of the year, Alex, brought rain and wind but little damage to Portugal's Azores archipelago in January.
© 2016, Glynn Wilson. All rights reserved.