DeltaWorld Entertainment, a new fun, worker-owned company on the Gulf Coast, announces its first public launch Saturday night in downtown Mobile at Portal Studios. "Aquanox: A DeltaWorld Thanksgiving Solstice," a short film co-produced by Glynn Wilson and Walter Simon, will premier Saturday, December 19, beginning at 6 p.m.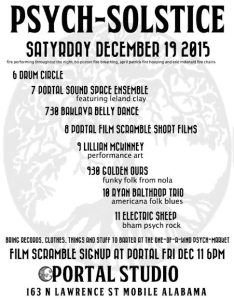 Summary
In the year 2050, an environmental disaster long-feared came to pass upon the earth. Wanton burning of fossil fuels deranged earth's climate, melting glaciers and ice caps. Oceans around the globe rose 250 feet, covering much of dry land. Only a few isolated populations of humans survived.

In the new year of our lord 30 AG, 30 years after Aquageddon, remnants of the once abundant species subsist on native wild rice, what's left of the feral pig population, fish, shrimp, oysters and rusty canned goods scavenged from the top floors of the RSA tower and old ships run aground. One day a year, warring tribes declare a truce and gather for a Thanksgiving solstice meal atop an old Indian mound, amid sparse remains of the cypress forest in the Alabama-Tensaw Delta. But it's a tenuous peace.
While this project is a quick, amateur production orchestrated under a local film scramble weekly deadline, it sets the stage for the launch of a larger film project as part of a planned entertainment company that will include books, a theme park, a movie studio, a sound recording studio, along with restaurant and bar. Stay tuned to DeltaWorldMobile.com , https://www.facebook.com/DeltaWorldMobile , Google+TeamDeltaWorld, for more details in the weeks and months ahead.
For more information, check out the flier for the event on Facebook.
Contact teamdeltaworld@gmail.com or call for more information 205.960.3539
© 2015, Glynn Wilson. All rights reserved.