By Jeffrey M. Jones –
At the outset of the 2016 campaign for president of the United States, the potential Republican candidates identified so far lack the star power of previous campaigns, according to the latest Gallup poll on the subject.
The Republican nomination contest is shaping up to be a lot like 2012, with a long, hard fought Republican primary battle between lesser known and not so popular candidates and no clear front-runner, while the Democratic Party has a clear front-runner in Hillary Clinton, who is both well-known and very popular among Democrats.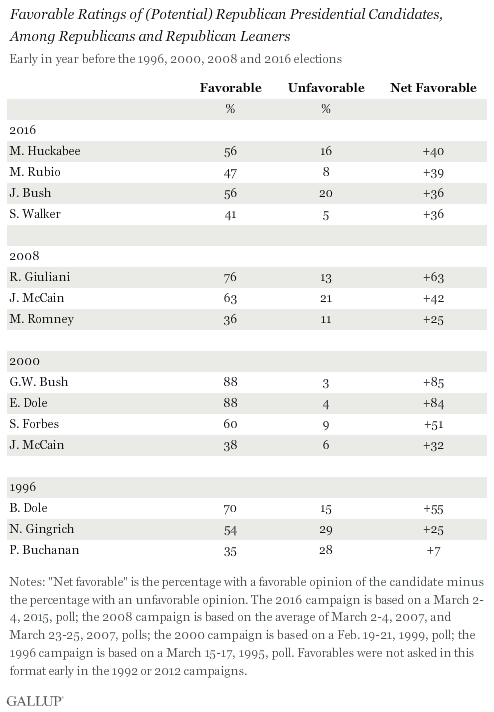 Arkansas Baptist Mike Huckabee leads the Republican contenders with a +40 favorability rating among Republicans. He is followed closely by the Hispanic Florida Senator Marco Rubio at +39.
But their scores pale in comparison with those for George W. Bush (+85) and Elizabeth Dole (+84) early in the 2000 campaign, and for Rudy Giuliani (+63) at the outset of the 2008 campaign, according to Gallup. Bob Dole (+55) also had a higher net favorable rating at the beginning of the 1996 campaign.
Underscoring the relative weakness of the potential 2016 crop of Republican candidates compared with their forerunners in prior campaigns, the candidates with the best scores at this early stage of the 2016 campaign would rank as only third best among the 2008 field, behind Giuliani and eventual nominee John McCain, and as fourth best in the 2000 campaign behind Bush, Dole and Steve Forbes.
Lower Familiarity
"A major factor in potential 2016 candidates' historically weaker net favorable ratings is that none among this group of candidates is as well-known as the early front-runners in the past," Gallup says in its analysis of the numbers and the situation.
While Jeb Bush is the best known of the potential Republican candidates, with 76 percent of Republicans and Republican-leaning independents familiar enough with Bush to have an opinion of him, in past primaries several candidates have enjoyed a familiarity rating of higher than four of every five Republicans. Elizabeth Dole, for example, was familiar to 92 percent of Republicans. George W. Bush was familiar to 91 percent at a similar stage of the 2000 campaign.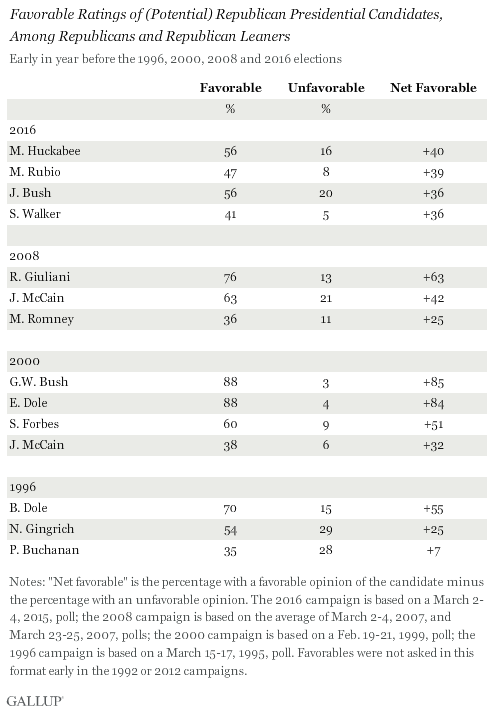 Rubio and Scott Walker currently have very low familiarity scores, comparable to those of McCain in the 2000 campaign and Mitt Romney in 2008. Both McCain and Romney emerged as key contenders in those campaigns, but ultimately came up short for the nomination. Their strong performances set them up for a run in the next presidential election, however, with McCain winning the 2008 GOP nomination and Romney in 2012.
From a candidate perspective, according to Gallup, being unknown is better than being unpopular.
"Right now, being unknown is the greater challenge for Walker and Rubio, with roughly half of the party rank-and-file unfamiliar with them," Gallup says in its analysis of the data.
Currently, only 8 percent of Republicans have an unfavorable opinion of Rubio, and 5 percent have an unfavorable opinion of Walker.
"The tendency will be for their favorable ratings among Republicans to increase as they become better known, but their unfavorable ratings should increase at least slightly as well," Gallup says. "To the extent each can minimize the increase in negative opinions and maximize the increase in positive opinions as they become better known, it is possible their popularity could rise to approach that of some of the GOP front-runners in past campaigns."
Although they are by no means unpopular with the GOP base, the better-known Jeb Bush (20 percent) and Huckabee (16 percent) do have higher unfavorable ratings among Republicans than most other contenders.
"Bush and Huckabee still have work to do to become better known among the GOP base, but also would need to work to reduce their unfavorable ratings, or at least keep them from swelling," Gallup says. "Both, however, can take heart from McCain's winning the 2008 Republican nomination after beginning the campaign with a 21 percent unfavorable rating among Republicans."
Implications
"The images of the candidates will evolve as the campaign unfolds, and many largely unknown candidates will become better known, particularly if they have noteworthy performances in the debates or do well in early state primaries or caucuses," Gallup says.
"But at the outset of the 2016 campaign, the GOP lacks the star power of prior campaigns in having a very well-known and highly popular candidate as the nomination front-runner. That may mean that the Republicans could be in for a protracted nomination battle as a number of similarly rated candidates vie for votes."
Early popularity is by no means a guarantee of campaign success.
Rudy Giuliani's popularity at the beginning of the 2008 campaign, for example, likely related to his well-regarded handling of the 9/11 terror attacks. But that image faded during a lackluster campaign that saw him struggle to gain a foothold among Republican voters. And Elizabeth Dole could not translate her high name recognition and popularity into a viable 2000 campaign, dropping out before the primaries in part because of George W. Bush's commanding lead in fundraising.
Survey Methods
Results for this Gallup poll are based on telephone interviews conducted March 2-4, 2015, on the Gallup U.S. Daily survey, with a random sample of 653 Republicans and Republican-leaning independents, aged 18 and older, living in all 50 U.S. states and the District of Columbia. For results based on the total sample of Republicans, the margin of sampling error is plus or minus 5 percentage points at the 95 percent confidence level. All reported margins of sampling error include computed design effects for weighting.
Each sample of national adults includes a minimum quota of 50 percent cellphone respondents and 50 percent landline respondents, with additional minimum quotas by time zone within region. Landline and cellular telephone numbers are selected using random-digit-dial methods.
© 2015, Glynn Wilson. All rights reserved.