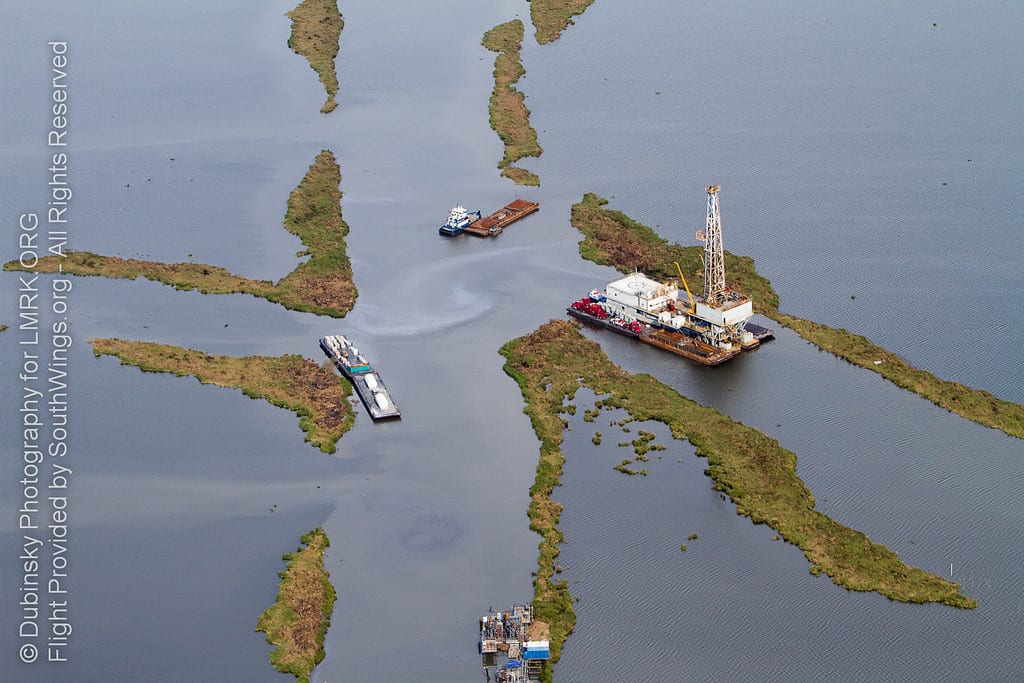 By Glynn Wilson –
WASHINGTON, D.C. — Five years ago this month, I was peacefully photographing birds in Birmingham Alabama when I heard the news that British Petroleum's Deepwater Horizon offshore oil rig had exploded and was on fire and leaking tons of raw crude into my favorite sea.
By the time I got my gear together and made it down to Dauphin Island to cover the story myself, it had been announced that 11 crew members were dead and the amount of oil flowing from the damaged rig would surely set the record as the worst environmental disaster in American history, bigger than the Exxon Valdez disaster in Prince William Sound Alaska in the spring of 1989 and TVA's 2009 coal ash spill in Kingston Tennessee.
While there was nothing much journalists or activists could do about the so-called BP-Gulf oil spill but fly over and take pictures and wait until the oil made landfall, it became obvious that the event would make activists out of many people on the Gulf Coast. And not just liberal tree huggers who were already concerned about the environment.
Many more conservative members of the commercial and recreation fishing communities and those who work in the tourism trade would have to start paying attention to not just the environment, but government regulation. For it was the lack of effective oversight by the Bush administration's Minerals Management Service along with BP's negligence and Halliburton's crappy concrete that led to the disaster that still affects the Gulf Coast on a daily basis.
"While the 2010 BP disaster undeniably devastated Gulf communities and ecosystems, few people realize that chronic oil and gas pollution from other sources is impacting the Gulf Coast on an almost daily basis," according to an anniversary press release put out by the Louisiana Environmental Action Network.
Since July 15, 2010, the date when BP finally "capped" the gushing Macondo well, the Coast Guard's National Response Center has recorded at least 9,800 spills of crude oil, petrochemicals and other contaminants into Gulf Waters. And people are still sick. I broke the first and best story on the human health effects of the disaster, and at the time, I was laughed at by many who thought that was some kind of a "conspiracy theory."
It took the Associated Press a couple of years to get around to admitting that story was true. But most of the national and local mainstream news coverage — bought and paid for by BP ads — continues to push the myth that all is right with the world on the Gulf Coast and that the seafood is safe to eat. Since much of the oil was sunk by the chemical compound Corexit and is still on the bottom, washing ashore with every breeze and storm and change in tide, how could the bottom feeders like shrimp, crab and oysters be safe to eat?
But there are activists on the ground who know better and say so every day on Facebook and Twitter.
On Wednesday, after multiple attempts to meet with company representatives, a group of Gulf Coast activists visited the home of BP's Chief Operating Officer and Vice President Andy Hopwood, hoping to have a face-to-face conversation with him regarding the devastating impacts of BP's continuing oil disaster in the Gulf of Mexico.
"Hopwood, one BP's highest ranking Houston-based corporate executives, appeared to be home at the time, but refused to come to the door," the group said in its anniversary press release.
So they slipped a list of unanswered questions through the mail slot in yet another attempt to get answers they have sought for more than five years.
Coastal residents had hoped to avoid the visit to Hopwood's home, which coincided with Earth Day, but say they exhausted all other options.
"We have been trying for 5 years to have an open, honest dialog with BP regarding the very real human health, ecological and economic effects of this disaster," said Cherri Foytlin, a South Louisiana mother of six and advocate for cleanup workers, fishing families and residents. "Coastal residents have attempted to work within the claims process, signed petitions that BP refused to accept, engaged with our governmental officials, attended countless meetings, tried to meet with them in Houston and even traveled to BP's shareholders' meetings in London. But BP has shown time and time again they are more committed to cleaning up their image than they are to cleaning up the Gulf and compensating our sick and economically devastated communities."
A January 2015 status report indicates only 18 percent of health claims submitted have been approved and even fewer have been paid. Fishermen report a slow and burdensome economic claims process that often results in the denial of compensation payments. Many fishing families report being subjected to investigations by BP for allegations regarding the filing of fraudulent claims, a humiliating experience that they say is harassment and which only adds insult to injury.
"We tried to deliver a petition to them with 121,000 signatures and they refused to take it," said New Orleans justice advocate Jayeesha Dutta. "The fishermen went to their headquarters and BP refused to speak to them. That's the conundrum we're facing and that's why we're coming to his house."
The people of the Gulf Coast will never give up, Foytlin said.
"We will continue to expose BP for its lies, lack of safety culture, and for its human rights violations," she said. "BP doesn't need to operate here. BP is a foreign corporation, a colonizer that has taken advantage of us and continues to be allowed to plunder our resources. It has destroyed our environment, corrupted our representation, and harmed our citizens. We will hold BP accountable for the damage it has done and we will do whatever it takes to prevent this from happening again."
I have now moved to Maryland and still tell the stories about what I saw, and people just shake their heads and mutter: "It's all about the money." Even when pushed, conservatives admit it too.
To learn more about the Gulf Monitoring Consortium, what the member organizations have been doing to address this pollution, and see the animated map, click here.
© 2015, Glynn Wilson. All rights reserved.