By Glynn Wilson –
Americans continue to name Hillary Clinton as the woman they admire the most in the world, while President Barack Obama gets top billing as the man they admire the most, according to the latest Gallup poll on the subject.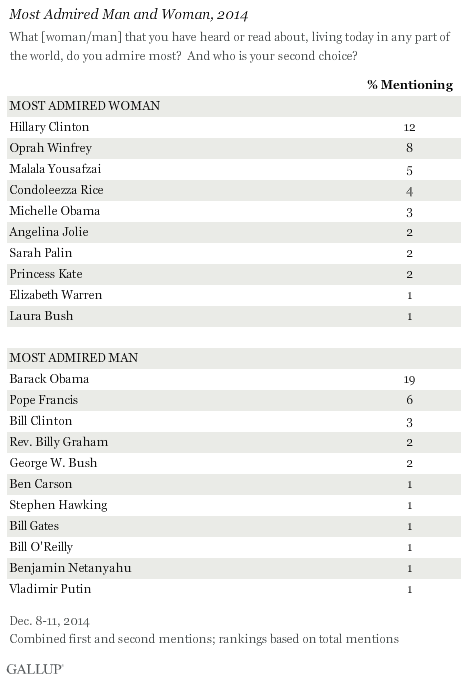 Ms. Clinton, who is positioning herself to run to become the first woman president in American history in 2016, has held the top women's spot in each of the last 13 years and 17 of the last 18 years. That streak was only interrupted briefly by then first lady Laura Bush in 2001 after the 9/11 terror attacks.
Mr. Obama has been most admired man in each of the last seven years, beginning with 2008, the year he was elected president.
Ms. Clinton has been most admired woman 19 times, easily the most of any woman in Gallup's history of asking the most admired question, six more times than Eleanor Roosevelt. She won the distinction from 1993 to 1994 and 1997 to 2000 when she was first lady, the from 2002 to 2008 when she was a U.S. senator and from 2009 to 2012 when she was secretary of state.
Although she has had no formal public role during the last two years, she retains a high enough profile to top the list as the presumed front-runner for the Democratic presidential nomination in 2016.
Clinton's margin over second-place Oprah Winfrey is four percentage points, 12 percent to 8 percent — the smallest lead for Clinton since a two-point lead over Winfrey in 2007. During her years as most admired woman, Clinton's lead over the second-place finisher has generally been smaller when she held a partisan political role as U.S. senator or a presidential candidate than when she held a less partisan role as first lady or secretary of state. The more politicized views of Clinton have also been evident in the decline in her favorable ratings among all Americans since she resigned as secretary of state.
Clinton and Winfrey are joined in the top 10 by Nobel Prize-winning Pakistani teen Malala Yousafzai, former Secretary of State Condoleezza Rice, first lady Michelle Obama, actress and humanitarian Angelina Jolie, former Alaska Gov. Sarah Palin, Princess Kate of England, Massachusetts Sen. Elizabeth Warren and Laura Bush.
Winfrey now has 27 top 10 appearances, the fourth most of any woman. Queen Elizabeth II of England did not finish in the top 10 this year, but still holds the record of 46 appearances for all women historically. Clinton's 23 top 10s is fifth all time, while Rice (14 times) and Laura Bush (11 times) have also frequently ranked in the top 10.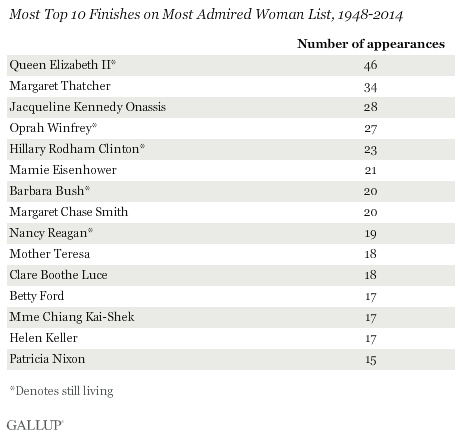 Mr. Obama has appeared on the top 10 list each year since 2006, including ranking No. 1 in each of the last seven years, all by healthy margins over the second-place finisher. The incumbent president is nearly always the winner of the most admired distinction, having placed first in all but 12 of the 68 years the question has been asked.
Most of those 12 exceptions have come when the president was unpopular, including in 2008 when President-elect Obama finished ahead of George W. Bush and in 1980 when Pope John Paul II edged out Jimmy Carter as well as during the Watergate era of 1973-1975 and in the late 1960s during the height of the Vietnam War. For much of Harry Truman's presidency, he was overshadowed by Gens. Dwight Eisenhower and Douglas MacArthur.
The remainder of the top 10 men this year is mainly a mix of religious figures, such as Pope Francis and the Rev. Billy Graham, and political figures — including former Presidents Bill Clinton and George W. Bush, Israeli Prime Minister Benjamin Netanyahu, Russian President Vladimir Putin and potential 2016 presidential candidate Dr. Ben Carson.
Businessman and philanthropist Bill Gates, astrophysicist Stephen Hawking and political commentator Bill O'Reilly also finished in the top 10.
Graham's top 10 finish this year brings his unprecedented total appearances on the list to 58. He has finished in the top 10 every year since 1963 (except 1976, when the question was not asked), as well as from 1955 to 1961. He has never ranked first, but did finish second every year from 1969 through 1974.
Clinton made the top 10 for the 23rd time, the fifth most behind Graham, Ronald Reagan, Carter and Pope John Paul II. Gates had his 15th top 10 finish this year, and Bush his 14th.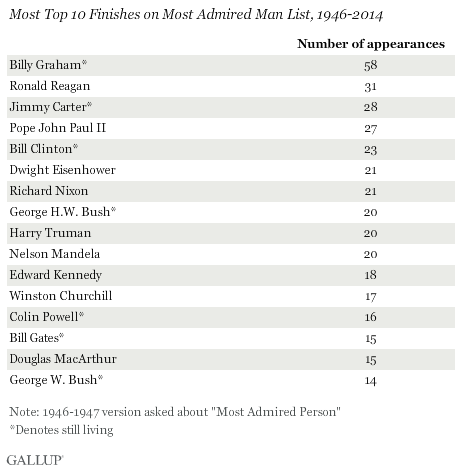 Partisanship Influences Most Admired Choice
Democrats and Democratic leaners widely choose Hillary Clinton (20 percent) and Barack Obama (33 percent) as the most admired woman and man, respectively. Not unexpectedly, Republicans and Republican leaners are much less likely to name either as their most admired. In fact, former Secretary of State Rice edges out Winfrey and Clinton as the most admired woman among Republicans. Obama and Pope Francis tie as the most admired man among Republicans, at 8 percent.
Republicans' and Democrats' top five most admired women include both Clinton and Winfrey, and their top five most admired men include both the president and the pope. Beyond these, their choices differ.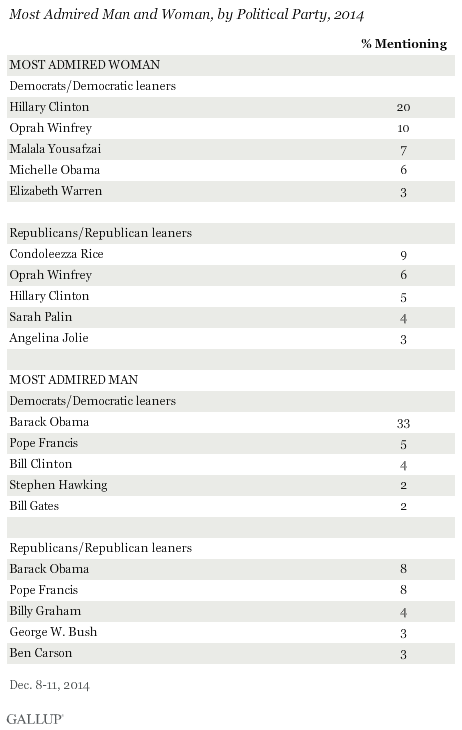 Gallup's Implications
"Although both Hillary Clinton and Obama saw their popularity fade this year, they remain prominent and popular enough to be the most top-of-mind people living today when Americans are asked to name the woman and man they admire most," Gallup concludes. " At this time next year, Clinton may be actively campaigning to become Obama's successor as president."
It is unclear whether doing so would make it more likely or less likely that she would continue her reign as most admired woman, Gallup says.
"On one hand, being a presidential candidate and the clear front-runner would ensure she stays a prominent figure in the news," Gallup says. "On the other hand, as a presidential candidate she likely would be evaluated from a more partisan perspective, which may cause some — particularly Republicans — to view her in a less favorable light."
Survey Methods
Results for this Gallup poll are based on telephone interviews conducted Dec. 8-11, 2014, with a random sample of 805 adults, aged 18 and older, living in all 50 U.S. states and the District of Columbia. For results based on the total sample of national adults, the margin of sampling error is plus or minus 4 percentage points at the 95 percent confidence level.
© 2014, Glynn Wilson. All rights reserved.