By Glynn Wilson –
MARION, Va. — Who says government is so bad?
The Virginia Department of Conservation and Recreation employs young people every summer to engage Virginia's youth in a structured program of important conservation and park projects on public lands while providing learning that fosters teamwork, self-esteem, social responsibility and respect for the environment.
We ran into one crew while camping on the way to Washington, D.C. for the Independence Day fireworks display in the Hungry Mother State Park campground on Thursday morning.
It looked like they were having fun and providing a valuable public service at the same time. What could possibly be wrong with that?
According to the program's Website, the itinerary includes three elements united by the types of project, environmental education and adventure programming, depending on the age of the participants.
"These are environmental stewardship programs, not summer camps," the agency says. "The young person will work hard, sometimes in difficult conditions including deep mud, hot sun, mosquitoes and flies."
Not to mention ticks. I pulled one off my leg trying to crawl up under my pants right after this. It is tick season, after all, and they are particularly bad in Virgina, where the population of white tailed deer has exploded in recent decades.
Not sure why, but I'm not seeing any mosquitoes. Only a few flies and gnats. Some young deer by the road and the creek.
Virginia's State Park Youth Conservation Corps was honored with the United States Department of the Interior's Outstanding State Volunteer program award in 2010. The Take Pride in America award cited the group's "… outstanding commitment to the stewardship of America's public lands and natural and cultural resources."
Looks like a worthy program to me. Perhaps more states should get involved. This is how democracy works. Capitalism too. Pay people to fix something and learn too. They spend money, boost the economy, and pay taxes. I mean, what's wrong with that?
Projects worked on by the young folks includes restoring and preserving wetlands, stream banks, and other projects to help protect endangered species and other wildlife habitats. They work on foliage restoration, conduct water quality testing, remove non-native plants and weeds, help restore watersheds, conduct nursery management, landscaping, mapping, surveying, recycling and other community improvements.
They also work to restore damaged trails, bridges and fencing in campground day use areas, like the project pictured here.
"Youth Corps projects are visible, tangible and meaningful," the agency says. "Crew members often return to the parks where they served and appreciate their projects for many years. Projects have educational aspects, are environmentally sound and fulfill an unmet need in the park."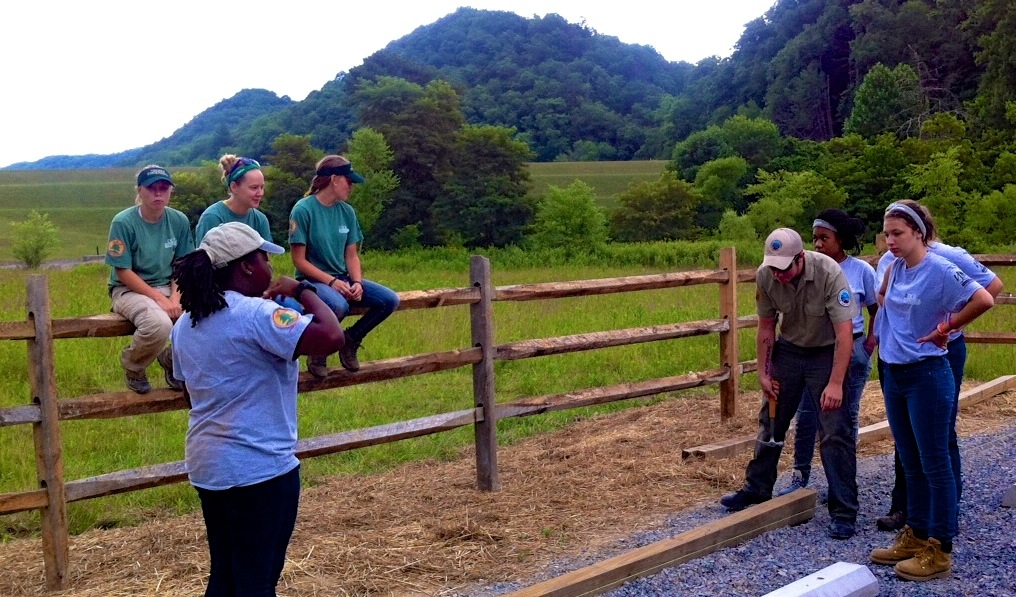 © 2014, Glynn Wilson. All rights reserved.