By Glynn Wilson –
A solid majority of Americans, 61 percent, still support President Barack Obama's decision from 2011 to remove nearly all U.S. troops from Iraq, according to the latest Gallup poll on the subject, and 57 percent of Americans still say the war and invasion was a mistake.
Public support for the U.S. withdrawal from Iraq has fallen 14 percentage points from October 2011, however, a few months before nearly all troops left the country and since Republicans in Congress and former Bush administration officials have been critical of the president in the press as the new government in Iraq appears to be failing and the country finds itself falling further into civil strife between warring religious tribes.
"The government of Iraq has faced an existential crisis as Sunni militant groups capture major portions of the country and press onward to Baghdad, the capital," according to Gallup. "The Islamic State of Iraq and the Levant (ISIL), a terrorist organization with previous ties to al-Qaida, is a leading force behind this violent insurgency. In response to these threats, Obama has sent 275 military troops to help secure the U.S. embassy in Iraq and 300 military advisors to assist the Iraqi government."
One factor that undoubtedly contributes to the broad support for the withdrawal of troops from Iraq is the enduring unpopularity of the decision to send troops there in the first place, according to Gallup. A majority of Americans, 57 percent, see the U.S. decision to send troops to Iraq in 2003 as a grave mistake.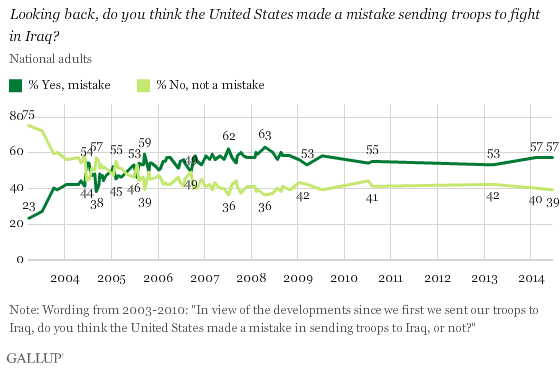 This reading is identical to what Gallup found in February before the latest round of devastating attacks against the Iraqi government.
Some Republicans still seem to be in favor of the war and the U.S. invasion carried out by the Bush-Cheney administration, even though virtually every military and intelligence expert in the world saw it as a drastic miscalculation.
Only about a third of Republicans approve of Obama's 2011 decision to withdraw troops from Iraq, by far the lowest level of support for the decision across partisan groups, according to Gallup.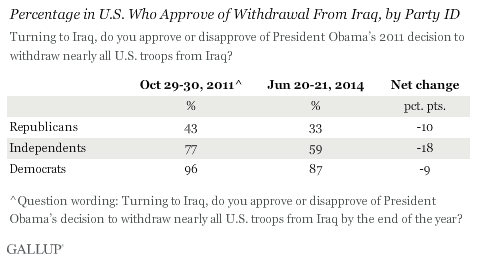 Support for withdrawal was highest among Democrats, 87 percent of whom were against the war and wanted American troops out of the country. Nearly 60 percent of independents also supported that position.
Gallup's Bottom Line
"Undertaken with overwhelming public support and a major campaign promise, Obama's 2011 withdrawal of nearly all U.S. troops from Iraq is now slightly more controversial as the country edges toward civil war," Gallup says. "Although a majority of Americans still back the decision, support for it has dropped 14 points since 2011, even as public opinion remains unchanged on the underlying invasion that brought U.S. troops to Iraq."
Survey Methods
Results for this Gallup poll are based on telephone interviews conducted June 20-21, 2014, on the Gallup Daily tracking survey, with a random sample of 1,012 adults, aged 18 and older, living in all 50 U.S. states and the District of Columbia. For results based on the total sample of national adults, the margin of sampling error is plus or minus 4 percentage points at the 95 percent confidence level.
© 2014, Glynn Wilson. All rights reserved.